I want to start off by saying this Fitbit Sense Review is based on my personal experience with the product. This review will tell you everything you need to know, the pros and cons, and will help you figure out if it's for you. Yes, I did purchase one, so I know firsthand as an owner and Fitness enthusiast, the in and outs of this device. When I was looking for a good Smartwatch, I started looking at Fitbit Sense Reviews from people who actually owned it. The Fitbit Sense has a huge number of features and I would like to answer whether this is the best smartwatch for women for 2021 or is there a better alternative?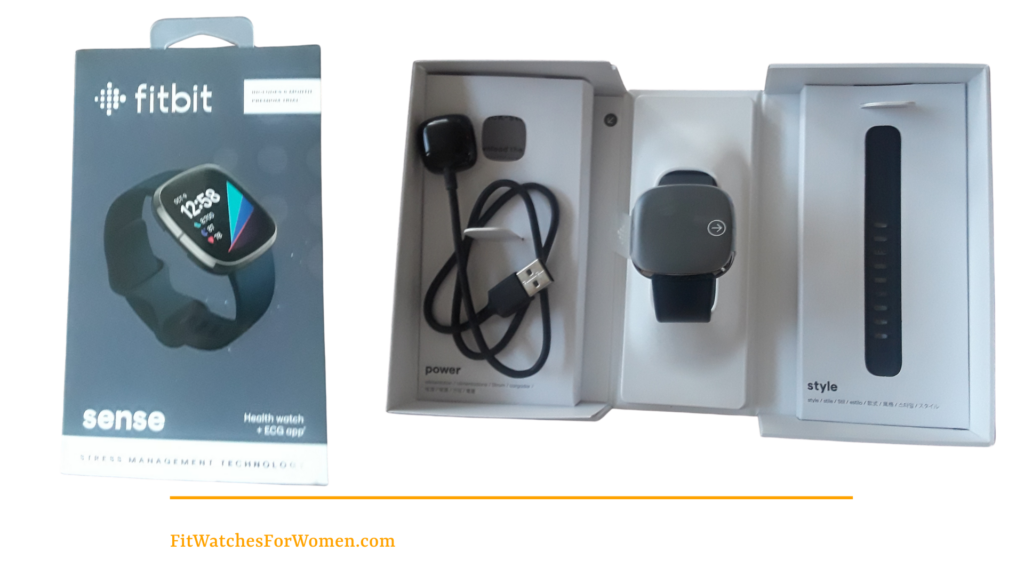 As a cardiac nurse I have been involved with fit watches for many years now. My first purchase was a Fitbit Charge 2, and although it had it quirks, I truly fell in love with it. I love the Fitbit app and the way it interacts with their devices. But, I did outgrow my Charge 2. It was a great fitness tracker, however, I needed to upgrade to an advanced Health Smartwatch, which is exactly what the Fitbit Sense is. In this Fitbit Sense Review, I want to give you a very detailed and honest review of this Smartwatch.
Like many gadgets we use, they are only as good as the application and use. It does a body no good if you just buy a smartwatch and don't take advantage of the benefits of their features. I can tell you from experience, if you use the benefits of the features to good use, you can and will achieve your fitness goals. Whatever they may be. So, let's first of all take a good look at some Fitbit Sense Features and benefits.
Who is The Fitbit Sense For?
The Fitbit Sense is really for the active individual who is not only looking for a smartwatch that monitors their overall health and fitness, but one that is also so advanced that it helps manage stress, monitors your heart health, track potential signs of illness using skin temperature and much, much more. In fact, when it comes to monitoring your heart health, the Fitbit Sense has been selected as one of the best wrist heart rate monitors in another post we wrote. It is also for the fitness enthusiast who is looking for quality and simplicity. It also happens to be Fitbit's top of the line Smartwatch. It is for the individual who wants the features and benefits of a fitness tracker plus the brilliance of having a smartwatch as well, which is, for all practical purposes, a wearable computer.
From a woman's perspective, I really like the looks, especially with the Lunar White band and the soft gold trim. This watch comes in two colors; the Lunar White soft gold trim and the Carbon/Graphite Stainless Steel. Take a look at the images below. Aren't they gorgeous!
As you can see the Fitbit Sense is not only attractive for the active woman, but I can tell you from experience it is the most functional smartwatch I have ever owned. When I was shopping for a good smartwatch, one of my concerns was that I would lose the features and benefits I had in my Fitness Tracker because this is the case with other smartwatches on the market. You end up sacrificing the benefits of a tracker for the benefits of a smartwatch. This has not been the case with the Fitbit Sense. I simply love this watch and I can tell you along with the Fitbit App, I continue to benefit from monitoring all of my fitness needs without losing any of the necessary features I had with my Fitbit Charge 2. Speaking of features, let's now get into detail of the Fitbit Sense features and benefits.
The Fitbit Sense Features and Benefits
So, first of all I have to say, monitoring one's health is a great thing. It allows you to make improvements to your lifestyle based on facts instead of emotion. I don't know about you but many times my emotions get in the way of me trying to make any type of improvement in my life. As my husband always says, as a Quality Management Specialist, "you don't know what you don't know until you start to monitor it". Now that he works from home, I have to listen to him tell his colleges that over and over. Oh well, I digress.
Read Next: Why Is Your Fitbit Not Tracking Sleep and How To Fix It
So, let's take a look at a few of the different Fitbit Sense features and their associated benefits:
Stress Management Score

This gives you a better understanding of how your body is handling stress by giving you a daily score

Built in GPS

Unlike a tracker, you do not need your phone for this. This allows you during outdoor hikes, runs, and rides, to used built-in GPS to see, not only your distance, but your pace as well. Then you can take a look at a map of your workout in the fitbit app. This is awesome!

Voice assistant

This feature allows one to check the whether, set alarms and bedtime reminders, control all of your smart home devices and much more by simply speaking to Google Assistant or Alexa right from your wrist.

Battery life of 6+ days

It's nice to see that a smartwatch can have a battery life similar to my Charge 2. This allows the Fitbit Sense to track your morning, night and everything in between without having to stop to charge your device. Also, it will last up to 12 hours with continuous GPS.

EDA Scan App

Wow, what an awesome feature. This app actually detects electrodermal activity, which may indicate your body's response to stress and then goes the extra mile and reveals a graph in the Fitbit app to illuminate it.

More that 20 Goal-based Exercise Modes plus SmartTrack

This feature allows you to choose from more than 20 exercise modes to get real-time stats during your workouts. You can even let SmartTrack automatically recognize and record your exercises. This is a huge motivation to increase your overall fitness and well-being.

Many, many more features that I have not covered. Again, this is just a few of the features and corresponding benefits that are many, many more. One of these deserves a section all to itself and that is"
When you purchase the Fitbit Sense from this review, Fitbit will unlock a free 6-month trial for new Premium users. I am personally trying this out now as I write this review. This really allows you to totally optimize your overall well-being. You can monitor your SpO2, breathing and heart rate variability in the Health Metrics dashboard, plus you can access advanced mindfulness and stress management tools, personalized insights, deeper sleep analysis and much more.
In my opinion, this is one reason I made my purchase. This is a great way to test the premium trial offered by Fitbit so that you can try it out and see if it is truly for you or now. So, not that Premium will break the bank or anything, it is only $9.95 a month, but I wanted to see if it was really worth it or not, and since it came with this smartwatch I decided to give it a try.
If you would like to see the details of Fitbit Premium, take a peak at the video below:
Fitbit Sense Specifications
Just as the Fitbit Sense Features are important, so are the specifications. Below are just a few of these to be considered.
1.58 inch display with 336 x 336 pixels
Water resistance up to 50 meters
GPS
SpO2
Wireless: Wi-Fi, Bluetooth, NFC
Size: 1.59 X 1.59 X 0.49 inches
Weight: 1.62 ounces with the small band and 1.7 ounces with the large band
Sensors & Components
Multi-path optical heart rate sensor
Multipurpose electrical sensors compatible with ECG app & EDA app
Red and infrared sensors for oxygen saturation (SpO2) monitoring
Gyroscope
Altimeter
3-axis accelerometer
Skin temperature sensor
Ambient light sensor
Wi-Fi (802.11b/g/n 2.4GHz)
NFC
Built-in GPS + GLONASS
Vibration motor
Speaker (75dB SPL @10cm)
Microphone
Fitbit Sense Reviews From Actual Buyers
It's always a good idea to know what others say about a product before you make a purchase of any product. This is what I reviewed prior to making my purchase to ease my mind since there are so many to choose from.
The Fitbit Sense Reviews I looked at were directly from Amazon's website. As you can see from the image, out of 1683 ratings, 69% of then gave 5 star ratings. I think this is a great rating. Plus, 14% of those rating gave 4 stars. This means 83% of the 1683 people who own this product were very satisfied with it.
Some negative reviews came from people who were disappointed in the music listening feature. I suppose that they are correct in this, but I didn't really mind because I primarily use my phone to listen to music while I workout.
The positive reviews certainly outweighed the negative one's so I decided to make the purchase regardless. I have learned that there will always be negative reviews for just about anything you see on Amazon.
So far, I think I would have to give this Smartwatch a 5 rating. I am going to shop for a different band, however, because the one I purchased for my Charge 2 won't work for this one. I gave my husband my Charge 2 so he will have to get a more "manly" band for the watch. He is primarily interested in the Fitness tracking part of the watch anyways so smartwatch isn't really necessary for him at this time.
Pros and Cons
Like with anything in life, there are pros and cons to all things. Include Smartwatches and Fitness trackers. So, below is a list of these pros and cons
PROS
Excellent battery life, especially for a smartwatch – 6+ days
Large Display with attractive design, plus the color display is always o
I love the way it measures blood oxygen level
The ECG app feature is a huge plus
For someone who deals with sleeping troubles, I simply love the sleep tracking features
The Stress management feature is awesome
Supports Amazon Alexa, Fitbit Pay, Spotify
CONS
Some would say it is a bit expensive, but I believe it compares to the others that have fewer features
Touch screen responsiveness could be a bit better
Band release latch can be accidentally triggered
Small third-party app selection
Fitbit Sense Review Final Thoughts
We here at Fit watches For Women realize there is a lot to choose from in the world of wearable devices. This is why we created this site. To help you choose what works best for you. So, if you are someone who is looking for a good smartwatch that offers good value so that you can reach your health and fitness goals, then I believe this is the smartwatch for you. Together with the Fitbit App and the features and benefits listed above, you should be able to make your life easier as it pertains to your overall fitness and well-being.
One of the things I love about Fitbit and, of course Amazon is their return policy. If you don't like the product for any reason than you can always return it or exchange it for another product that may suite you better. We believe this product will enhance your fitness goals.
We also believe the best place to purchase this device is through Amazon since they have free shipping and the best price.
We review many fitness products, so if there in one in particular that you would like us to review please contact usand let us know. We always get back to you within 24 hours or fewer. We are here to help you in any way we can.