Are you tired of waking up feeling groggy and unproductive? Is your sleep quality suffering and you don't know what to do about it? You may consider tracking your sleep. In this article we will discuss a possible solution for you. We will take a detailed look at into this Withings Sleep Tracking Mat Review.
A good night's rest is essential for optimal health and productivity. Unfortunately, not everyone gets enough of it. In fact, according to the National Sleep Foundation, nearly half of all Americans suffer from some form of sleep disorder.
If you're among those who need a little extra help getting a good nights' rest, then you'll love this review of the Withings Sleep Tracker mat.
Withings Sleep Tracking Mat Review Specs
| | |
| --- | --- |
| Dimensions: | 637mm length (25''), 190mm width (7.5''), 5mm thickness (0.2'') |
| Weight: | 350 g (12 oz) |
| Compatibility: | iOS compatibility (iOS 10 and higher); Android compatibility (5.0 and higher) |
| Sleep Cycles: | deep, light, REM phases |
| WiFi: | 2.4 GHz b/g/n; WEP/WPA/WPA2 |
| Price: | $99 |
| Our rating: | 9.5/10 |
Overview of the Withings Sleep Tracking Mat Review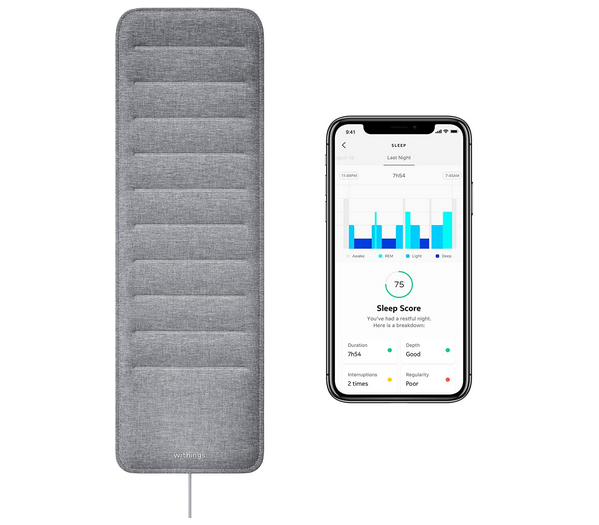 The Withings Sleep Tracking Mat is considered an advanced sleep tracking device. The company refers to this device as 'Sleep', which provides a very in depth look into ones nights sleep by monitoring sleep cycles, monitoring your heart rate, and even detecting snoring.
The Withings Sleep Tracking Mat allows you to wake up every day to your sleep score recorded in, what is known as the Health Mate app. This also allows you to learn about the data that can have an impact on your sleep quality which includes things like how long you sleep, how deep you sleep and any interruptions that occur during your sleep. Not only that, but it also helps you with your sleep schedule and it tracks the time it takes to fall asleep and wake up.
Another unique metric that the Sleep tracking mat performs is that it measures the intensity of any breathing disturbances that may arise. It has a built in algorithm that analyzes these interruptions in breathing patters that occur while you are asleep. A couple of advantage to using a sleep mat as apposed to a wristband include the fact there is nothing to wear, it's an easy one time set up, and they are more accurate.
Plus, this device automatically syncs to WiFi, so there is really nothing for you to do except analyze the data and allow it to help you sleep better. The fact that you do not have to worry about these types of things makes it much more convenient.
Other devices like Fitness trackers, rely on movement to measure sleep patterns. Because of this we get questions like why is your Fitbit not tracking your sleep? This is because it measures things like movement. The Withings Sleep mat utilizes different technology that makes it much more accurate. Take a look at the video below to help you understand the technology behind the sleep tracking mat sleep Sleep Analyzer.
Withings Sleep Tracking Mat Review Features
There are many features of the Withings Sleep Tracking Mat that is discussed in this review. There are also quite a few benefits associated with those features. There is simply not enough space in this review to cover every single feature and benefit, so we decided to highlight a handful of them and get into a little bit of detail into each one. Once we do that we can then look at what many actual customers say about this amazing device.
Nothing to Wear
The fact that there is nothing to wear makes this sleep tracking device head ace free. Unlike other sleep tracking devices, such as a wearable device that have other functions associated with them, the sleep tracking mat focuses on one thing only. Tracking and recording your sleep data and help you to utilize that data to help you get a higher quality sleep. That is its only function and because of this, it tends to be a more accurate measure of sleep.
Built In Advanced Sleep Tracking
One of the best benefits of using this sleep tracking device is that it gives you a reliable sleep score. A read out displays and overall sleep score and then breaks it down into individual elements that include sleep duration, recovery, interruptions, sleep regularity, time to sleep, and time to get up.
In addition to the sleep score, advanced tracking also includes continuous heart rate monitoring that is accurate & snore detection. These advanced sleep tracking features allow you to really figure out what steps you need to take to improve the quality and effectiveness of your sleep.
Home Automation
The Withings Sleep Mat has something known as IFTTT integration. IFTTT is an acrynom that derives its name from a programming statement "if this, then that." If you want to know the details and get a technical answer to what is IFIII, then go here. For our purposes this feature allows this awesome sleep device to act as a switch to control things like controlling your lights, thermostat and more. The cool thing about this is that it is automated and triggered from your sleep data.
Sleep Diary and In-App Results
The Withings Sleep Mat has the ability to automatically generate a shareable sleep diary. One of the advantages of having such a diary is that you can actually share it with your doctor. This way, between the two of you, you can make medically informed decisions about your sleep. This way you can used actual data to make the best decision about how to treat a particular type of sleep disorder. This can be a very valuable tool to use.
About the Withings Brand
The Withings company was founded back in 2008 by three individuals from the telecom and technology industries. They are Eric Carreel, who is now the CEO, Cedric Hutchings and Fred Potter. Withings has an interesting history. They were acquired by Nokia in 2016 and actually became a separate division of Nokia known as Nokia Health. Then in May of 2018 Eric Carreel regained control and Withings became independent again under the Withings name.
They are now a French consumer electronics company and has headquarters in Issy-les-Moulineaux, France. In addition to that, they have offices in Boston, Massachusetts, USA and Hong Kong and are a world wide distributor. Withings is known for innovation and design in connected devices. They came out with the first Wi-Fi scale on the market in 2009. They also came out with an FDA cleared blood pressure monitor, a line of activity tracking watches and, of course, a smart sleep system.
Pros and Cons of the Withings Sleep Tracking Mat
As with any Fitness device, there are pros and there are cons associated with them. Below is a comprehensive list of the Withings Sleep Tracking Mat.
Pros
Sleep Tracking Level of Detail
When you compare this device to other types of sleep tracking devices, you get a very detailed level of sleep tracking data. In fact, when you compare the detail and accuracy to a wristband or fitness tracker, it simply does not compete. Of course, you are not getting the other features that fitness trackers have, but when it comes to tracking sleep data, there is no comparison.
One-time Setup The device itself only has to be set up one time. In other words, you do not have to mess with it. You just have to sleep on it and then monitor your results through the app.
You Cannot Feel it
Unlike Fitness Trackers you wear on your wrist, or sleep rings worn on your finger, the Sleep Tracking Mat cannot be felt. You simply put it under your mattress and sleep on it.
Cons
Your Bed Has To be Near a Plug in.
This may or may not be a problem for you, however, some people have expressed that in some cases it is inconvenient to have to have your bed near an outlet. This is different from a wristband or a ring since those are wearable devices and it is not necessary to plug them in unless you need to charge the battery.
Software and Support Issues A few of the reviews of this product indicated that while the sleep tracking accuracy was very good, the support of some of the software issues were slow to respond. In particular day light savings time delay was an issue.
Amazon Customer Reviews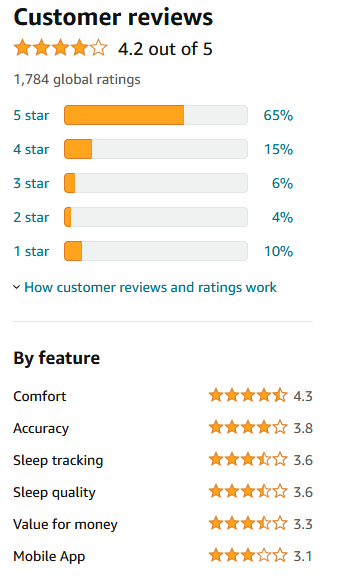 As you can see from the Customer Reviews ratings image to the right, out of 1,784 global ratings, a 4.2 out of 5 star rating was given to the Withings Sleep Tracking Mat.
According to Amazon Customer Reviews, 65% of the 1,784 global ratings rated this sleep tracking device at a 5 star rating. Not only that but 15% of the people rating it gave it a 4 star rating.
So, what does this mean exactly? This means that 80% of the 1,784 people responding to this sleep tracking device rated it above average. Keep in mind that these are actual customers that own this device.
Another feature of the Amazon review system is the ability to see ratings by feature. As you can see from the image to the right, customers rated this device by individual features. This gives you good solid data to review.
In addition to this summary, Amazon offers their potential customers individual comments from people who have purchased products sold on their platform. Again, these are people who have purchased this sleep tracking device and are willing to express their individual likes and dislikes. Check out the individual comments below.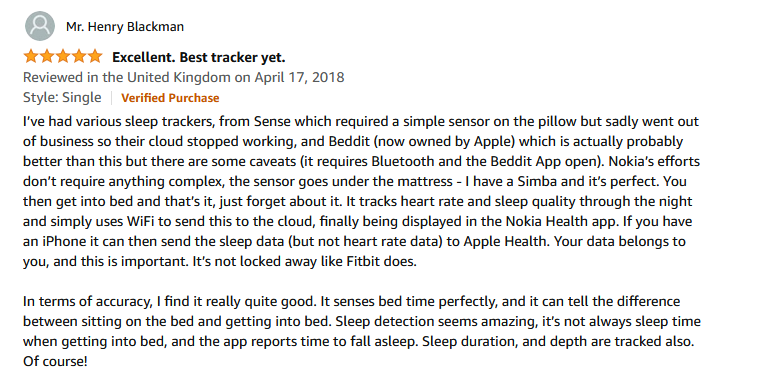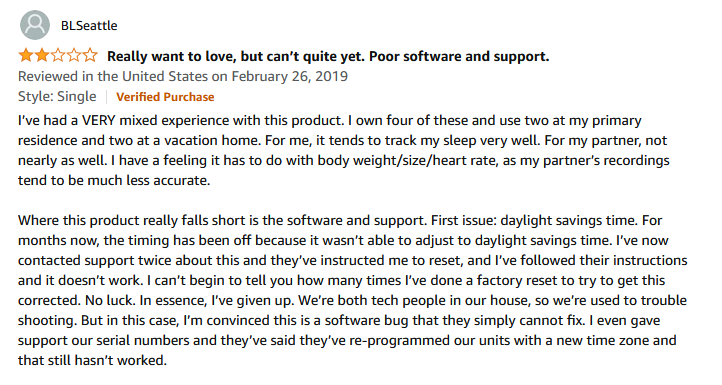 Common Questions About Withings Sleep Tracking Mat Review
Another feature that Amazon offers its customers is the ability to see common questions about the products that are purchased from Amazon. This allows others to see if their questions have been answered and if others are having the same results and questions as they themselves have.
In addition to this, they can ask a question and expect to see an answer. In many cases, several answers from a community perspective. Refer to some of the more common questions from Amazon below.
Will it work with thick memory foam Mattresses? To answer this question many people who own these types of mattresses responded with a "yes" and a few stated they were surprised at the accuracy of the unit even though their mattresses were very thick.
Will the device still track snoring even if you sleep with quite background music or white noise? Many people answered this question with yes and offered comments to the fact that it still picks up snoring and that the device is sensitive enough to pick it up even with background noise. Of course, this is relative to the noise level itself.
Are there examples of how this device actually helped people improve their sleep? A few chimed in to this question stating that the tracking doesn't directly help you sleep better, but knowing what factors affect your sleep does help. For example, it reveals things you may have done that helped you sleep better, like the light level, noise level, or when and where you fell into the different levels of sleep based on your sleep score.
Final Verdict
So, what is the final verdict, and do we recommend the Withings Sleep Tracking Mat based on this review? First of all, we gave this device a final score of 9.5 out of 10.0. The main factors considered in this evaluation were two main things. Accuracy and convenience as far as tracking sleep is concerned. If you are looking for a very accurate way to measure and track sleep this is certainly the way to go. So, yes we do recommend this fitness device for those who are serious about tracking sleep.
Conclusion
The Withings sleep tracker mat is a small device that fits under your mattress. It tracks your sleep patterns and gives you insights into your sleeping habits. It has been designed to help people improve their sleep by tracking their movements during the night.
This product is made by Withings, a company that was founded in 2008. They have offices in Paris, London, New York City, San Francisco, Toronto and Sydney.
The sleep tracker mat uses sensors to track your movement throughout the night. It measures your heart rate, breathing, temperature, and movement. These data points are used to calculate your sleep stages. You can view these results on the app or on the Withings website.
.