Even-though the Apple Watch itself is an awesome fitness device, one is best to leverage all that the Apple watch has to offer. One of Apple Watches best attributes is the plethora of Apple Watch Apps available on the market today. Not only that, but the quality of apps available is outstanding, to say the least. In this post, we will give you a detailed look into what we consider to be the best 3 fitness Apple Watch Apps, and then narrow that down to THE best of the best.
Best Fitness Apple Watch Apps (Updated List)
| # | Preview | Product | Rating |
| --- | --- | --- | --- |
| 1 | | Apple Fitness + | Best Overall |
| 2 | | WorkOutDoors | Runner Up |
| 3 | | What3Words | Budget Friendly |
Why You Should Get A Fitness Apple Watch App
While the Apple Watch is a fantastic piece of technology, its true potential lies in how well it integrates into our daily lives. There is so much you can do with these devices. Did you know you can even watch see Netflix on Apple Watch? With so much functionality packed into such a small package, it makes sense that developers would start creating apps for the Apple Watch.
Apple Watch Apps are a great way to keep track of your health and fitness goals. They allow you to monitor your heart rate, sleep patterns, calories burned, steps taken, distance traveled, etc., all from your wrist. You can even get an app that will help you when you get lost. They can also add benefits to your Apple Watch that competitors have on their smartwatches. For example, you can turn your Apple Watch into the perfect running or hiking companion.
You can also set reminders for yourself to stay active throughout the day, and if you find yourself sitting down for long periods of time, you can quickly stand up by pressing a button on your Apple Watch. Plus, you can easily access your favorite fitness apps from your iPhone, so you won't have to worry about losing your phone when you're working out.
What to Look for When Buying Fitness Apple Watch Apps
Everyone has different preferences on what is important or not when deciding on a Fitness Apple Watch App, but I want to offer my opinion on the most important things that the App should have. Keep in mind that there are many good features available for these types of apps, but I will cover the top three. They should have the ability to track a variety of metrics that include the following:
Heart Rate and Calories Burned
Although the Apple Watch itself displays some of these metrics, a good Apple Watch Fitness App will add amazing enhancements to these metrics in ways that can help you improve your overall health and fitness. They can also help you make more sense of these metrics and how the can specifically help motivate you and keep you focused on obtaining your goals. Which leads us to the next item to look for in Apple Watch Fitness Apps.
Goal Tracking
Goal tracking is a great way to help you stay focused on your specific fitness goals. Whatever those may be. These goals may be different for each of us and a good fitness app will provide the functionality to help you set the goals that are right for YOU. Goal tracking can be done in many different ways. But, the important thing is that the app gives you this option and is robust enough to have built in practicality for your needs and, most importantly, motivates you into putting in massive effort to reach your goals.
Location Tracking
This is a very unique feature and is one that I find intriguing. You may be wondering how this relates to health and fitness. Well, thing about hiking or being on a very long run. Especially hiking. You may find yourself in a situation where you do not really know where you are. Or, even worse, you get hurt and you need to describe to someone else where you are located. This is where location tracking can become quite useful. In fact, it can even potentially save your life.
Fitness Apple Watch Apps Product Reviews
Here are the reviews of the best Fitness Apple Watch Apps.
1. Apple Fitness + (Best Overall)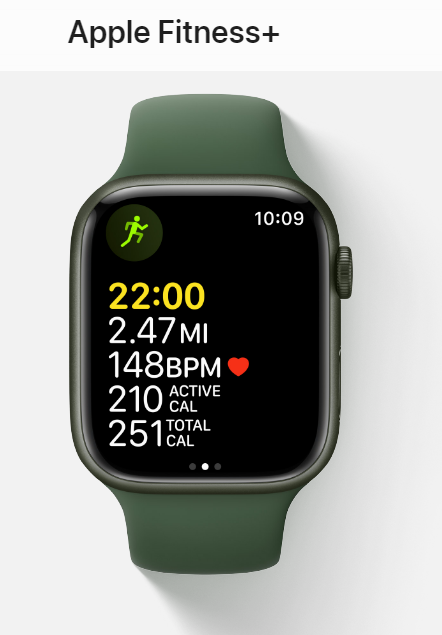 The Apple Fitness + app is our top choice. It the very first Apple Watch fitness service. It is a very powerful fitness app indeed. It comes with 11 total workout types, including Strength and Yoga. It even has guided meditations. The App features real time metrics, which allows you to see important stats like your heart rate onscreen.
You also get updated workouts each and every week. These can be short workouts (5 minutes) or longer, more engaged workouts that can be up to 45 minutes long. Even without a phone, you can get audio guided experiences. Right from you watch! This is a great feature, if you are not in the situation where you want your bulky phone with you. For whatever reason.
That's not all, you also have the ability to sync important data to your iPhone, IPad, or Apple TV, all in real time. How does this work? There are sensors in the Apple Watch that when combined with advanced algorithms, gives you these advanced metrics that motivate you in your workouts right to these other devices. This eliminates the need to look down at your watch and stay focused ahead. Talk about having ways to help you stay motivated!
Apple offers a free 1-month trial and then it is only $9.99 per month, or $79.00 per year. This is a great value.
Pros
New workout each week.
Amazing syncing ability
Real time metrics
Cons
You will need to own an Apple iPad or Apple TV or you would have to view your workouts on a very small screen.
You have to have an Apple Watch (goes without saying)
2. WorkOutDoors (Runner Up)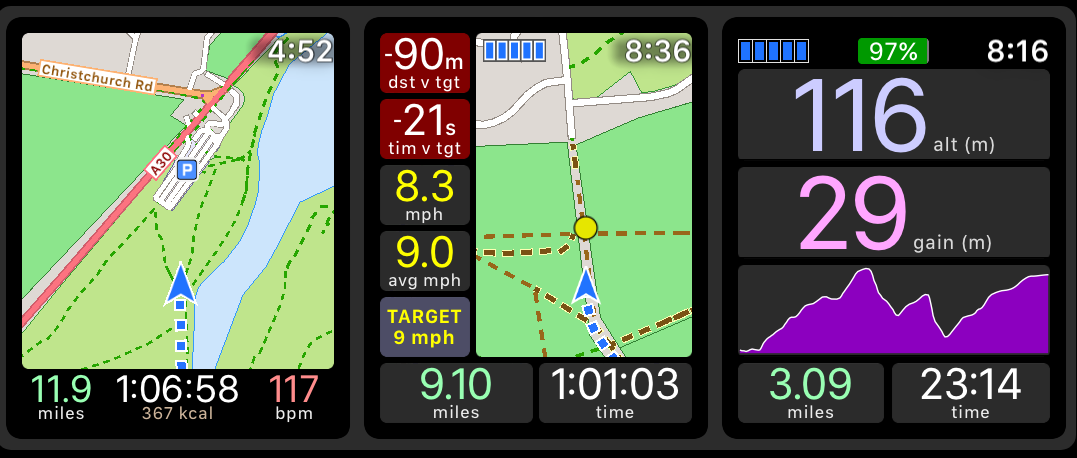 WorkOutDoors is another amazing Apple Watch Fitness App. It is specifically designed with the person who works out in the outdoors. Such as hikers, runners, and cyclers. It is also one of, if not the only, fitness app that has fully functional vector maps. These vectors provide all of the necessary metrics and information for outdoor workouts. This includes trails, paths, tracks and pistes. These vectors can be easily panned with your finger and then zoomed in to allow easy viewing.
What is really cool, is there is built in cashing, which allows much of this information to be displayed even when you lose a signal. Plus, this workout app is very configurable with a huge variety of screen layouts and over 300 different metrics available. There is simply not enough room here to list all of the possible uses of these different metrics and how they can help you achieve your fitness goals.
Another cool feature regarding the map is that it shows a breadcrumb train of where you have been previously. Plus, it can rotate according to direction of travel. The app comes with two built in compasses. A green one that points to your starting position, and a red one that points directly north. Plus, you can import GPX routes and waypoints and then display these on the map. How cool is that?
More features include, but are not limited to heart rate zones, alerts, intervals, the tracking of calories burned with rate, target pace, rolling pace and more. Plus, there are multiple data screens that can be configured where you have full control of things like layout, content and text size. It allows you to simply swipe the display and go through each of the screens.
Pros
Fully functional vector maps
300 different metrics available
Built in cashing,
Nicely priced at $5.99
Cons
Learning curve is a bit steep, but worth learning
3. What3Words (Budget Friendly)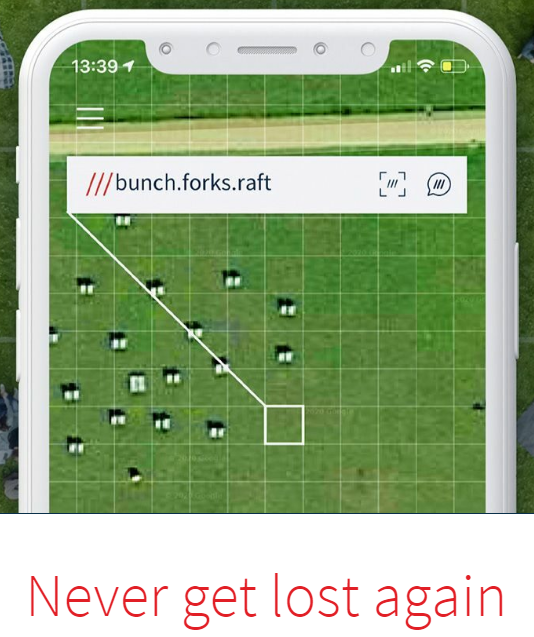 This is also a very unique app. In fact, it can literally save your life. We listed it here as a companion app. It is not really meant to act as a stand alone fitness app, but more serves as an addition to it. It is extremely budget friendly, meaning it is FREE. Yes, absolutely no risk associated with using this app and only total benefit.
This app allows you to easily find, share and save precise locations. Locations anywhere in the world. How does it work? Well they have literally divided the world up into 3meter squares and given each of these squares a combination 3 unique words.
Thousands of business and other entities use this app each and every day. This includes emergency response entities, logistic companies, automotive companies, travel businesses and organizations for a variety of reasons. It improves efficiency, better customer service and offers smoother journeys of others, and saves lives.
Check out the video below to see how this app is used by emergency services:
Pros
Free
Can Save Lives
Compatible with Apple Watch
Cons
Is not a standalone fitness App
FAQ's
Below are a few frequently asked questions regarding Apple Watch Apps.
What is the Best Fitness App For Apple?
The best Fitness App for Apple is Apple Fitness +. We rated this as our number one pic. The app is updated each and every week with new exercise routines and can seamlessly integrate with the Apple Watch and other Apple products.
What Fitness App Works with Apple Watch?
There are many fitness apps that work with the Apple Watch. In fact Apple has recently expanded the number of apps available. Apple Fitness + best integrates with Apple Watch. WorkOutDoors also integrates well with Apple Watch as well as Strava and many others.
Is There a Free Fitness App For Apple Watch?
Yes, there are free fitness apps available for Apple Watch. Strava offers a free version along with their premium version. Also, the Nike Run Club is a free fitness app available from the App store.
How Many Apps are Available For Apple Watch?
There are over 20,000 different apps available for Apple Watch.
Conclusion
Apple Watch has been released and people are already looking for apps that will help them stay fit and healthy. There are many fitness trackers available but none of them offer the same level of convenience as the Apple Watch as well as versatility and overall quality.
The Apple Watch allows users to monitor their heart rate, sleep patterns, calories burned, steps taken and other health related data. This makes it easier than ever to keep track of these things and help people reach their health and fitness goals in addition to improving motivation.
There are several apps available that allow users to track their fitness levels and metrics even better. Some of these apps include Apple Fitness + and WorkOutDoors. Other apps available include, MapMyRun and Strava. These apps sync with each other and share information between devices.
Our top choice is the Apple Fitness + that offers a ton of features and benefits and seamlessly integrates and syncs with the Apple Watch. Along with other added benefits this app help people reach their overall health and fitness goals.