As wearable tech grows in popularity, it's no surprise that smart rings are making their mark. One such player in the field is the Circular Ring. In this in-depth circular ring review, we will examine its features, performance, and how it stacks up against competitors.
Circular Ring Review Specs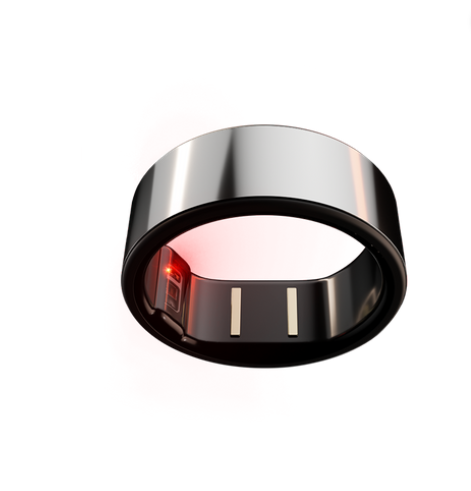 Dimensions:
Width: 9 mm; Thickness: 2.75 mm
Weight:
5 grams
Sizing:
Available in 8 sizes: From US 6 to US 13
Circular ring sizes fit just like regular rings sizes
You can easily find your size with the Circular Sizing Guide or 3D rings that you can print!
Finish:
Black fit, Silver, Rose gold, Gold
Sensors:
1 infrared LED sensor, 1 red LED sensor, 1 green LED sensor, 3 axis accelerometer, 1 surface temperature sensor.
Water Resistance:
Suitable for light water exposure like showering or washing hands.
Battery & Power:
Battery life; Up to 4 days
Full charge in one hour
Memory:
Up to 10 days of data
Connectivity:
Bluetooth Smart® (Low Energy)
Airplane mode
Compatibility:
Free app on iOS and Android
Compatible with mobile devices that run iOS 11.0 or later, or Android 6.0 or later.
Price:
$284
Our rating:
9.5/10
Overview of the Circular Ring Review
The Circular Ring has gained significant attention primarily due to its robust sleep tracking features, drawing comparisons with popular devices like the Oura Ring. In fact, it has been said that it is a great alternative to the higher priced Oura Ring. The Circular Smart Ring is not only a wellness monitoring device that is worn on a finger, but it also provides a range of health and fitness metrics.
The Circular Ring is primarily used for tracking and improving sleep patterns. It also offers various other wellness tracking features, such as heart rate monitoring, breathing rate tracking, temperature monitoring, and more. It's designed for those interested in monitoring their sleep patterns, physical activity, heart rate, and overall well-being.
However, the question remains – does it deliver as per expectations? One of the most noteworthy aspects of the Circular Smart Ring is its ability to provide a detailed analysis of your sleep. The data it collects can offer insights into why you might feel refreshed some mornings and utterly drained on others. It is also one of our 3 best smart rings for women.
Let's delve into the product features and the benefits they bring to a fitness conscious individual. Check out the video below to give you a glimpse of the fact that it is much more than a health tracker.
Circular Ring Features
paragraph about the features of the product
Blood Oxygenation and Temperature Monitoring
A unique combination of red, green and infrared light, that is invisible to your eyes are utilized to enable blood oxygenation monitoring and clinical grade heart rate monitoring accuracies. The device can measure the oxygen saturation of your blood, which can help identify potential respiratory diseases. Equipped with temperature sensors, the Circular Ring also monitors your body temperature and how it reacts to your environment.
Heart Rate Variability and Breathing Rate Monitoring
The Circular Ring measures your heart rate and heart rate variability (HRV). HRV measures the change over time between two heartbeats and can provide insights into the health of your autonomic nervous system. The device also monitors your breathing rate. This data can be used to detect potential illnesses. The Circular Ring also offers breathing exercises to help you relax and fall asleep. The smart ring vibrates on your finger to guide you through these exercises.
Amazing Sleep Tracking Capabilities
The primary selling point of this Circular Ring Review is its extensive sleep tracking abilities. It provides insights into various aspects of your sleep, such as sleep quality, total sleep time, and sleep start and end times, among others. This deserves its own discussion.
In the rapidly evolving world of wearable technology, the Circular Ring's focus on sleep science has been particularly notable. According to a recent study on sleep patterns and wearable tech, tools like the Circular Ring can offer valuable insights into our nightly rest and overall well-being, further emphasizing the importance of such devices in today's health-conscious era.
About the Circular Brand
Circular is a pioneering wearable tech company headquartered in Paris, dedicated to harnessing the convergence of AI, big data, miniaturization, and IoT to reshape the landscape of wearable technology. Comprising a multicultural team with a shared vision, they seek to go beyond the conventions of the wearable market by focusing not just on metrics, but on the comprehensive understanding and cross-analysis of an individual's data.
At the heart of Circular's philosophy is the idea that everyone is unique, with distinct lifestyles, health rhythms, and choices. As such, their products aim to assist users in recognizing and responding to their body's signals in a meaningful way. This approach enables them to provide highly personalized recommendations rather than just raw data, ensuring that each user experiences a product tailored to their individual needs.
By integrating day and night tracking, they offer deeper insights into how the body reacts to various events and what it truly needs. The company's commitment is not merely to inform but to empower users to thrive both mentally and physically in their daily lives.
Pros and Cons of The Circular Smart Ring
As wearable technology continues to evolve, the Circular Smart Ring emerges as a testament to the blend of form and function in compact devices. This innovative piece seeks to deliver a variety of features in a discreet and stylish package, reshaping our expectations of what wearable gadgets can achieve.
However, like any product, it comes with its strengths and potential drawbacks. Let's delve into the pros and cons to better understand the advantages it offers and the challenges it might pose for users.
Pros
Monitors heart rate and blood oxygen
For a wearable in this size and price range, this is a great feature with awesome associated benefits as mentioned above.
Four Interchangeable Outer Shells
This allows unlimited customization to adapt your style for any occasion.
Water Resistant and scratch Proof

Cons
Customer Service
Despite its impressive features, some users have raised concerns about the Circular Ring's customer service, build quality, and software usability.
Software Usability
Some users have complained about software usability in the past based on syncing complications.
Common Questions About the Circular Ring
Is the Circular Ring good?
The Circular Ring offers comprehensive sleep and wellness tracking features. However, user experiences vary, and some have raised concerns about its build quality and customer service.
Does the Circular Ring have a monthly fee?
As of the time of this review, the Circular Ring does not require a monthly fee.
Where is the Circular Ring based?
The Circular Ring is produced by a company called Circular, based in France.
What is the use of the Circular Ring?
The Circular Ring is primarily used for tracking and improving sleep patterns. It also offers various other wellness tracking features, such as heart rate monitoring, breathing rate tracking, temperature monitoring, and more.
Conclusion
The Circular Smart Ring has undeniably made waves in the world of wearable technology. In this Circular Ring Review, we talked about its intricate design and diverse feature set cater to those looking for a comprehensive health monitor, particularly in the realm of sleep analysis. Its capabilities to cross-analyze data and offer individualized insights stand out, especially at its given price point.
While it impressively competes with higher-end devices like the Oura Ring, it isn't without its share of critiques, particularly concerning customer service and software usability. Nevertheless, as wearable tech continues to surge forward, the Circular Ring symbolizes the potential future direction of this industry: devices that are not only smart in collecting data but are intelligent in interpreting them. For those on the fence, it's worth considering the device, bearing in mind its pros and minor hiccups.