If you are looking for a smart wearable that is not only stylish but also packed with high-tech features aimed at improving your health and wellbeing, the third-generation Oura Smart Ring might just be the gadget for you. This comprehensive Oura Smart Ring review will delve into the features, benefits, and potential drawbacks of this cutting-edge tech accessory.
Oura Smart Ring Review Specs
Dimensions:
Width: 7.9mm
Thickness: 2.55mm—the size of a wedding band
Weight:
4-6 grams (depending on ring size)—lighter than a conventional ring
External Surface Materials:
Titanium with physical vapor deposition (PVD) coating in Gold, Silver, and Rose Gold colors. Titanium with Diamond-like Carbon Coating (DLC) in Black and Stealth colors
Inner Surface Materials:
Non-allergenic, non-metallic seamless inner molding. This is a medical grade, BPA-free inner surface.
Shock resistance and bonding between printed circuit board and ring outer frame
Connectivity:
Bluetooth Low Energy (Bluetooth Smart®)
EMF-Safe and allows Airplane Mode
FCC certified
Price:
$$$ (Check the latest price)
Our rating:
9.5/10
Review of the Oura Smart Ring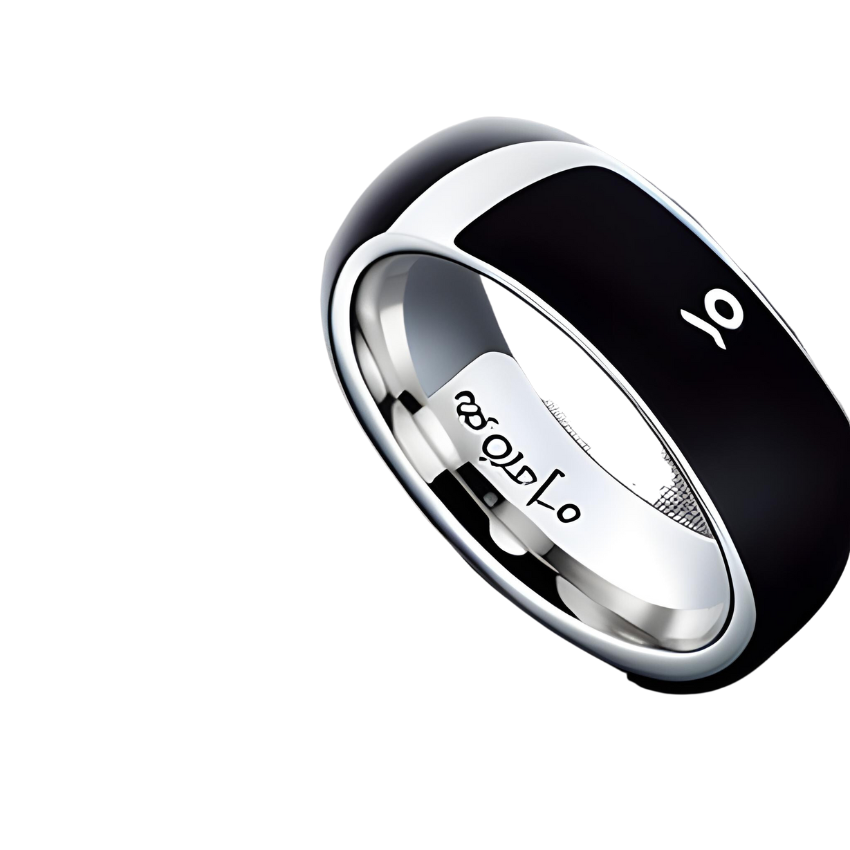 The Oura Smart Ring is a smart wearable designed to track your health data continuously. It is not just a fancy fitness tracker – it is a lifestyle tool that provides insightful data to help you lead a healthier life. With a sleek design and advanced technology, the Oura Smart Ring measures heart rate, body temperature, respiratory rate, and activity data, providing a holistic view of your health and wellness. It is also one of our 3 best smart rings for women.
The Oura Smart Ring is a stylish piece of jewelry that effortlessly combines fashion and function. It is available in two distinct styles – the traditional 'Heritage' and the circular 'Horizon'. The Heritage model features a flat top that houses the battery, while the Horizon model is a fully round design that requires a flexible battery for its functioning.
The ring is made of titanium, ensuring durability and comfort. It is available in five different colors – silver, black, gunmetal, gold, and rose gold. Despite its compact size, the ring houses an intricate array of sensors and accelerometers, making it slightly wider than a usual ring. However, the trade-off is worthwhile considering the advanced tech it harbors.
Setting up the Oura Smart Ring
Setting up the Oura Smart Ring is a straightforward process. All you need to do is to download the Oura app, create an account, and connect your ring to the app via Bluetooth. You will then be prompted to enter some personal information such as height, weight, and date of birth, which the app uses to personalize your data and provide more accurate insights.
One important step before ordering your Oura Ring is getting the correct size. Oura offers a free sizing kit so you can try different sizes before making a purchase. This ensures that the ring fits comfortably and the sensors are positioned correctly for optimal metric accuracy.
Oura Smart Ring Review Video
Below is a great video highlighting the overall features and benefits to make this Oura Smart Ring Review more comprehensive.
Oura Smart Ring Features and Functionality
When it comes to personal wellness wearables, features and functionalities are paramount in distinguishing a good product from a great one. Oura Smart Ring, with its seamless amalgamation of technology and design, has managed to carve a niche for itself in this bustling market. The richness of its features not only provides insightful data but also ensures users receive actionable feedback tailored to their unique health profiles. In this Oura Smart Ring Review, let's delve deeper into the multifaceted features and functionality that make the Oura Smart Ring a standout in the realm of health-centric wearables.
Sleep and Recovery Tracking
The Oura Smart Ring is primarily a sleep and recovery tracker. It uses heart rate, temperature, and activity data to calculate three scores: readiness, sleep, and activity. These scores give you a quick overview of your health status – a high score indicates good health and readiness, while a low score suggests that you might need to relax or reassess your habits.
The sleep tracking feature is particularly impressive. Unlike many wearables that solely rely on movement detection to determine sleep stages, the Oura Ring uses heart rate variability, body temperature, and activity data to measure the duration and quality of your sleep with remarkable accuracy.
Fitness Tracking
While the Oura Ring is not specifically designed for fitness tracking, it does offer some basic activity tracking features. It can track your steps, calories burned, and daily movement. However, it does not feature real-time workout metrics on a display screen, making it slightly less suitable for athletes or those who prioritize fitness tracking.
Women's Health
One of the standout features of the Oura Smart Ring is its focus on women's health. The ring tracks body temperature and other data to predict menstrual cycles, providing useful insights for women. It also integrates with the Natural Cycles birth control app, making it a valuable tool for pregnancy planning.
Battery Life and Charging
The Oura Smart Ring boasts a commendable battery life of up to seven days. Charging the ring is a breeze – you just have to place it on a custom plinth, and it can fully charge in about 80 minutes. The convenience of charging and impressive battery life mean you can wear the ring continuously without worrying about running out of power.
Price and Subscription
The cost of the Oura Smart Ring varies depending on the style and finish you choose. The Heritage model starts at $299, while the Horizon model starts at $349. To access all the features and insights, you will need to subscribe to the Oura app for $5.99 per month.
About the Oura Smart Ring Brand
Founded in Oulu, Finland, in 2013, the Oura Ring brand embarked on a mission to harness the power of personal data to foster better health and wellness. The company's Finnish roots are deeply embedded in its design philosophy, blending Nordic aesthetics with a commitment to precision and functionality. With its debut in 2015, the Oura Ring swiftly garnered global attention as one of the pioneering wearables focused primarily on sleep and recovery, rather than just fitness.
Over the years, the brand has undergone significant evolution, with each generation of the ring bringing in new features, improved designs, and advanced technology. While many wearables flooded the market with overwhelming data, Oura's distinction lay in its user-centric approach. It streamlined complex health metrics into digestible insights, empowering individuals to understand and improve their well-being. As the brand grew, so did its reputation, making Oura not just a tech accessory, but a holistic wellness tool adopted by athletes, health enthusiasts, and even professionals across various fields.
Pros and Cons of the Oura Smart Ring Review
Every innovative product, no matter how advanced, comes with its set of advantages and challenges. The Oura Smart Ring, a beacon of health-centric wearable tech, is no exception. To provide a balanced perspective, we've curated a list of its standout features and areas that might need a second look. Let's weigh the pros against the cons to determine if this stylish ring aligns with your wellness goals.
Pros
Comprehensive Sleep and Recovery Tracking: The Oura Ring excels in providing detailed and accurate sleep analytics, utilizing metrics like heart rate variability, body temperature, and activity data. This comprehensive approach offers insights far beyond many standard fitness trackers on the market.
Stylish Design with Advanced Tech: With its titanium build and multiple color options, the Oura Ring masterfully marries fashion with functionality. It's not just a wearable; it's a chic accessory packed with sensors and tech capabilities.
Women's Health Features: The Oura Smart Ring's integration with the Natural Cycles app and its ability to track and predict menstrual cycles set it apart. This focus on women's health is not commonly found in many other wearables.
Cons
Limited Fitness Tracking: While it offers basic activity tracking, the Oura Ring might not be the best choice for fitness enthusiasts or athletes who are looking for detailed real-time workout analytics and metrics.
Monthly Subscription for Full Features: Although the ring can function without the subscription, to get the most detailed insights and the full spectrum of features, users need to commit to a monthly fee for the Oura app.
Sizing Concerns: As the ring needs to fit perfectly to ensure accurate sensor readings, potential buyers have to be meticulous about sizing. Although Oura does offer a sizing kit, it's an additional step that some users might find inconvenient.
These points should give a balanced view of the product for your readers, enabling them to make an informed decision based on both its strengths and limitations.
Oura Smart Ring Reviews
One of the best ways to conduct your due diligence about a product is to see how people who have purchased the product actually feel about it in addition to reading Oura Smart Ring Reviews. This allows you to gather as much information as possible to make an informed decision before purchasing. Below are screen shots of people who have purchased the Oura Ring and gave a rating.
Best Buy Customer Reviews
Out of 123 Customer reviews from Best Buy, a total rating of 4.3 was given. As you can see from the image below, 76 people who purchased the product, gave the Oura Ring a 5-star rating. 30 of the people who reviewed the product, gave a 4-star rating. This indicates that 106 people out of 123, rated this product above average. That means that 86 percent of actual users of this product rated it above average. 7 out of 123 users rated it as average and 10 out of 123 users rated it as below average.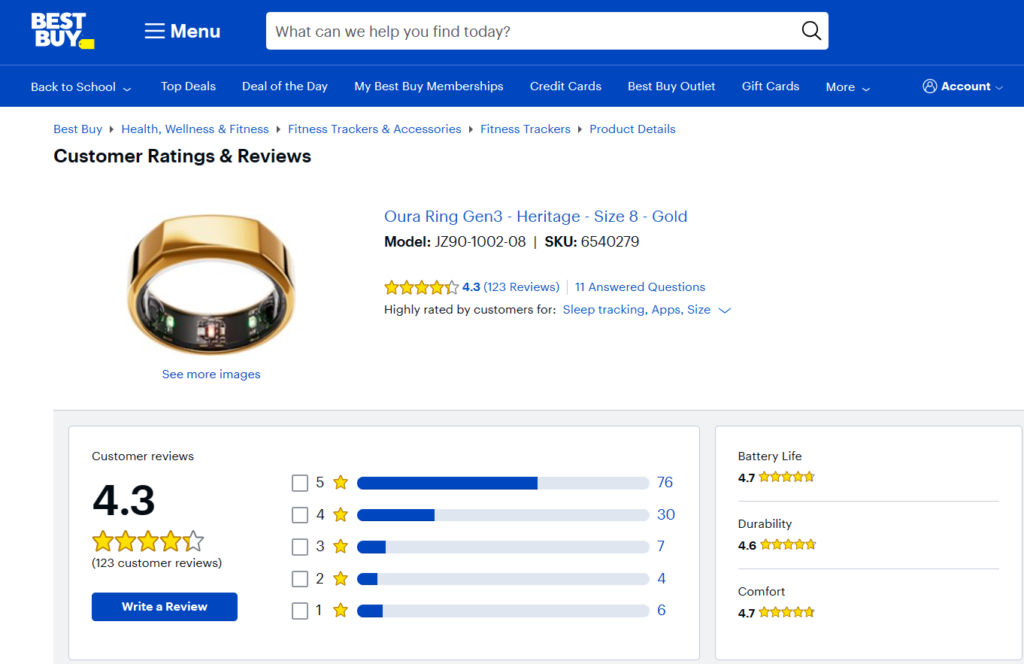 In addition to this overall Customer ratings and reviews, we have extracted some individual reviews from Best buy as well to give you an idea of what customers are actually saying about the product. We wanted to give you a mix of reviews. Obviously, we did not include all 123 reviews, but just a sample of those to give you an idea of what these users had to say about the product.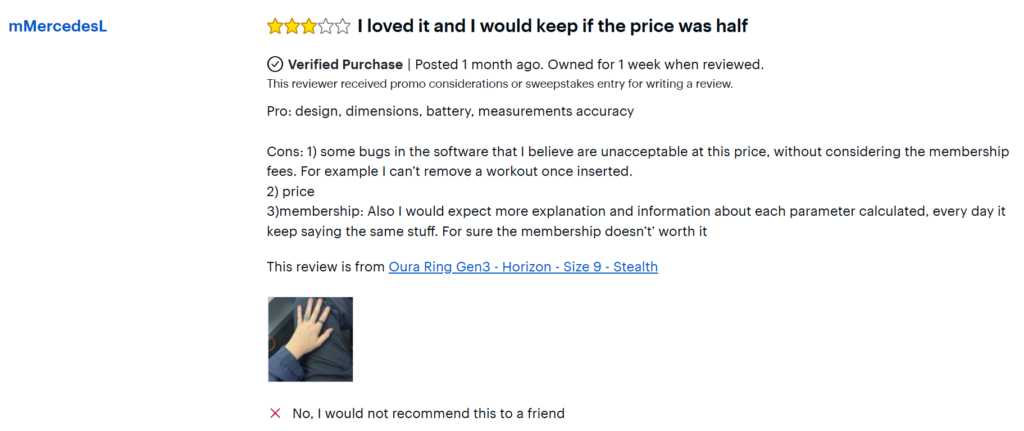 Common Questions About the Oura Smart Ring
Choosing a health and wellness wearable isn't just about understanding its features and benefits. It's also about addressing any lingering questions or concerns you might have about the product. In this section, we'll tackle some of the most frequently asked questions about the Oura Smart Ring, shedding light on its true value, costs, effectiveness, and its role in enhancing your overall wellbeing.
Is Oura ring worth it without the membership?
Without a membership, you'll still be able to see your readiness, sleep, and activity scores but will not have access to the detailed insights and analysis that make the Oura Ring truly valuable.
Does Oura charge a monthly fee?
Yes, Oura charges a monthly fee of $5.99 for access to its app, which provides detailed analysis and insights based on the data collected by the ring.
What problem does Oura ring solve?
The Oura Ring solves the challenge of continuously monitoring and understanding your health and wellness. By providing detailed insights into your sleep, activity, heart rate, and other health metrics, it empowers you to make informed decisions about your lifestyle and wellbeing.
How effective is the Oura ring?
The Oura Ring is highly effective in tracking various health metrics and providing valuable insights. Its sleep tracking feature is particularly impressive, offering accurate and detailed analysis of your sleep patterns.
Final Verdict
The third-generation Oura Smart Ring is an innovative and stylish wearable that offers insightful health data in a user-friendly way. Its focus on sleep and recovery tracking, along with basic fitness tracking features, makes it a valuable tool for anyone looking to improve their health and wellness.
While it may not be as robust as some fitness-specific wearables and requires a monthly subscription for full access to features, the Oura Ring's sleek design, high-quality build, and overall simplicity set it apart from other health and activity trackers. If you're seeking a wearable device that is as fashionable as it is functional, the Oura Smart Ring is well worth considering.
The Oura Ring has impressed us with its design, functionality, and advanced technology, making it a worthwhile investment for those who prioritize their health and wellness. However, it's important to keep in mind that it's not a one-size-fits-all solution, and its effectiveness will largely depend on how you use it and what you hope to gain from it.
Conclusion
In the rapidly evolving world of health wearables, the Oura Smart Ring stands out as a fusion of style, technology, and functionality. Its emphasis on holistic health insights, particularly in sleep and recovery, offers users a unique lens through which to understand and improve their well-being. While it may not cater to hardcore fitness enthusiasts seeking in-depth workout metrics, its aesthetic appeal and advanced sleep tracking make it a compelling choice for many. Factor in its emphasis on women's health, and it becomes clear that Oura has carved a distinct niche for itself. As with any tech product, it's essential to consider both its strengths and potential shortcomings. But one thing's for sure: for those seeking a blend of fashion-forward design and insightful health metrics, the Oura Smart Ring is a worthy contender in the wearable tech arena.