In this Fitbit Aria 2 review, Best Fitness Devices will conduct a full review of this product to give you all the necessary information to make an intelligent buying decision. This product review is intended for those of you who are interested in a WiFi smart scale and what they can do to enhance your health and fitness needs.
One of the things I really love about the Fitbit company in general is how their product line ties together to enhance one's health and fitness needs. All the way from their dashboard and fitness coach training apps, full line of fitness trackers and smartwatches, to their awesome accessories and community support .
Should you have any questions or comments or you would like us to review a certain product related to health and fitness, feel free to comment below. We are always happy to respond within 24 hours and welcome the engagement.
About The Fitbit Aria 2 WiFi Smart Scale
---
So, what is the Fitbit Aria 2 Smart Scale exactly?
Well, it is a smart scale that measures your body fat percentage, your weight, of course, lean mass, and BMI (Body Mass Index) and shows your trends over a period. Plus, it syncs this information with the Fitbit Dashboard and mobile apps making it a great partner for the Fitbit activity trackers giving you a holistic view of your health.
So, let's take a closer look at each of the information and metrics that the Fitbit Aria 2 smart scale measures. We have…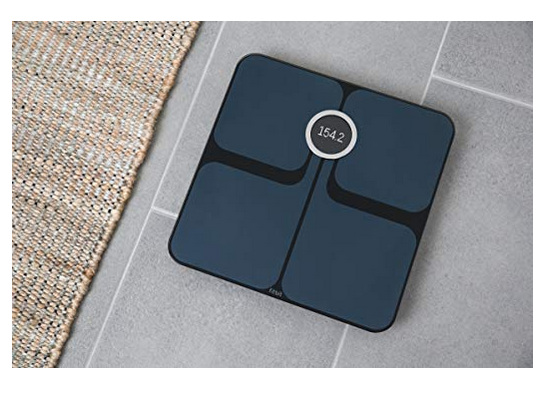 Weight
Body Fat percentage
BMI
Lean mass
Charts trends over time
What is really cool is that these are automatically tracked over time. Which means that you are not doing the work, the smart scale is tracking and remembering these metrics for you.
Weight
You simply step on the scale and the Aria 2 shows your weight stats on the screen and then automatically syncs them to the Fitbit App so that you can track your progress.
Body Fat Percentage
This allows you to monitor change. For example, you can compare your weight stats with your body composition trends and determine whether you are burning fat and gaining muscle. This is a key to sustainable change.
Body Mass Index (BMI)
So, what is body mass index or BMI anyway?
It is the measure that uses your weight and height to help you determine whether you are at your optimum weight considering your age and gender. The Aria 2 calculates this for you based on your profile information and weight and then sends this information to the Fitbit app.
Lean Mass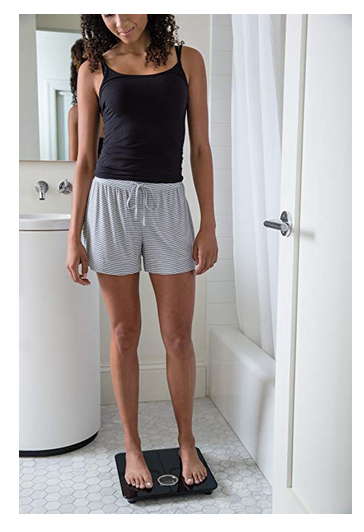 We hear a lot about lean mass, but it may not be clear as to what this really means. It is really just the weight of everything in your body but fat. But the important point is that knowing this helps you determine whether you are gaining muscle and losing fat. And, as you might expect, this information is sent directly to the Fitbit app.
For accuracy details, there are two modes to select from. There is a regular mode or a lean mode. The regular mode is for most of us who either exercise regularly or who don't exercise much at all. The lean mode is for those that are much more serious, such as marathon runners or body builders.
To get more accurate stats, set your scale to the right mode—Regular or Lean.
Charts trends over time
This allows you to view your progress over a period. This is pretty cool, because when the Aria 2 syncs the information to your app, it converts your information into very easy-to-read graphs that assist you in seeing your long term trends to see if your hard work is paying off for you.
Who Is The Fitbit Aria 2 Review For?
---
Obviously, the Fitbit Aria 2 is for anyone who is interested in tracking and trending their weight, body fat percentage, BMI and lean mass and having this information automatically sent to the Fitbit app for trending purposes. The awesome thing about this is that you don't have to do anything except stand on the scale. Since the scale is "smart" it knows where to send the information.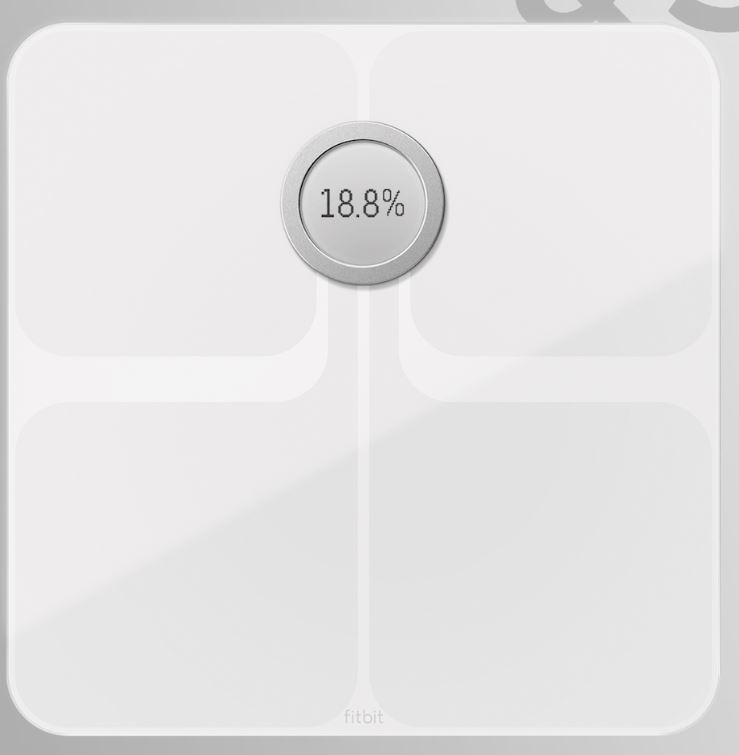 The Fitbit users who gain the most from this awesome device are those who are interested in either losing, gaining or maintaining their weight and then continuously monitoring those goals. Plus, you can have up to eight people use this device as well. This means that you only need one scale for everyone in the household.
This amazing scale works with a full range of the list of Fitbit Products.
This is what I love about Fitbit as a company. They are always looking for ways to motivate people like you and I to reach our health and fitness goals, and we can count on the fact that they will continue to find ways through technology and innovation to accomplish this overall task for its customers.
Now, there are some limitations to the Aria 2. You do not want to use this device if:
You have an implanted medical device such as pacemaker
You are pregnant while tracking your weight
You are under the age of 13
You weigh over 400 pounds (Aria 2 only measures weights between 10 and 400 pounds)
Fitbit Aria 2 Features
---
This WiFI smart scale is absolutely loaded with features. As mentioned above, the Aria 2 measures, tracks and monitors all of your weight management needs and does it in a very "smart" way. But, there are other features and benefits that we would like to point out that may interest you even more. The main theme behind the Fitbit Aria 2 is improvement. It has definitely improved upon its first smart scale the original Aria.
One of the biggest improvements are in the area of accuracy.
First of all, The Aria 2 is an FDA – approved health device, and allows you to be able to set and track your personal goals with your daily weigh-ins. You will even find a community section in the Fitbit app where users cheer each other on. This goes along with their coaching and courses for an additional subscription fee.
So, the Fitbit Aria 2 features include:
monitors weight, body fat %, BMI and lean mass
Tracks trends with charts and graphs
Syncs wirelessly
Recognizes up to eight users with privacy
Easy smartphone set up with blue tooth
Sleek and stylish
Comes in white or black finish with a polished glass surface
In addition to the above mentioned features, the Fitbit Aria 2 is tracker compatible. This means it can work with Fitbit watches and wristbands, so that you can get a better understanding of how everything you do impacts your weight. It also features a real easy set up to your smartphone seamlessly.
Is This The Best Smartscale for women
---
Before we ask this question let's take a good look at the Pros and Cons for this smart device.
Pros
Works Seamlessly with Fitbit Trackers
Syncs well with the Fitbit App
Extremely easy to work with and monitor results with
Lightweight, sleek design
allows up to eight users all with private setting
Cons
Maximum weight limit is just under 400 pounds
So, to answer the above mentioned question, I do believe this is the best smart scale for women based on a variety of metrics. It is certainly an exceptional fitness and weight product that has versatile capabilities to assist you in loosing weight, achieve your fitness goals and, together with a Fitbit fitness tracker – carefully keep track of each and every step.
In addition to all of this, it is very well-designed and can match nearly any bathroom., It is also compatible with a wide selection of exceptional weight and fitness products with versatile capabilities to assist you in losing weight, achieve your fitness goals and, together with a fitbit fitness tracker, carefully keep track of every step. It is also very well-designed and can match nearly any bathroom. It is also compatible with a wide selection of mobile devices, making it the best smart scale in our review.
This is all in addition to the fact that this equipment is and FDA cleared health device. That certainly tells us something about their quality and accuracy.
Conclusion
---
All things considered, the Aria 2 has one thing that a lot of other smart scales simply do not have and that is the Fitbit's platform and community. This means that you can view your exercises, activity, steps, floors climbed, swimming stats, heart rate and your weight all in one singular dashboard. If you already own a Fitbit, the Aria 2 is the simplest way to weave into your daily routine. No need for a separate app. This means all of your health and fitness data will be consolidated into one single platform. It also means you get instant access to Fitbit's awesome community.
Even if you do not own a Fitbit, you can invite someone who is not part of the Fitbit community and they can get all the benefits of the Aria 2. For example, if you own a Fitbit and are a part of the Fitbit community, and your husband is not, you can simply have him create an account on Fitbit.com using his email address (has to be different from yours though) and then you send him an invitation to use the scales.
He can then accept the invitation using the computer and his Fitbit.com email address. He will then be added to your scales and can use it just like you. This can be done up to a total of 8 members. How cool is that.