There are a plethora of Heart rate monitors available for the fitness enthusiast and many types of devices now have this feature built into them. There are heart rate monitors that you put on your chest and there are fitness trackers that now have built in heart rate monitors. Either way, a healthy heart rate during exercise an essential aspect to fitness.
A good deal of fitness enthusiast understand the importance of a resting heart rate, but knowing this information while you are exercising does indeed have value. and in this article we will explore why it's important to monitor your heart rate during exercise . We will also explore in detail the metrics you should be looking at and information on the importance of monitoring your heart rate during a good work out. But, this brings up another question.
What is a Normal Healthy Heart Rate During Exercise?
Since there are many factors that can influence our heart rate, there is no "real" normal heart rate during an exercise because we are all different. We cannot compare ours to others. That being said, however, there are target heart rate zones that you should try and achieve as you exercise based on the intensity of your workout. These target heart rate zones can be calculated from your maximum heart rate. What is my maximum heart rate you ask?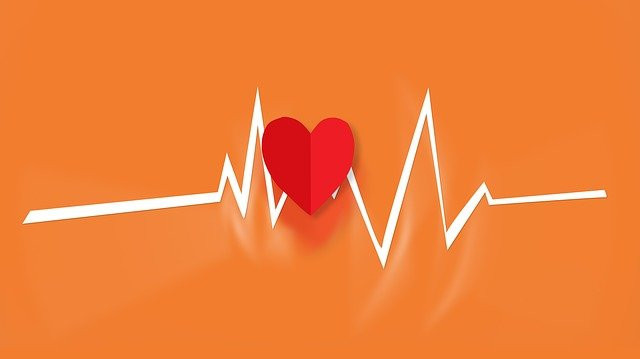 Well your maximum heart rate is calculated based on your age. Your maximum heart rate is it is approximately 220 minus your age. This is an important number because from it you can calculate what your heart rate should be during your work outs based on the intensity of those workouts. Since this is based on the intensity of your work out, the normal heart rate during exercise can be derived from your target heart rate zone, which is a range.
Here's a great video on ideal heart rate while exercising:
How to Determine Your Target Heart Rate Zone
As mentioned before, your maximum heart rate is approximately 220 minus your age. As you work out you want to build up from moderate exercise to more intense exercise. This is the most effective way to get the benefits of whatever exercise you choose to do, whether that be running, swimming, lifting weights or general cardiovascular exercise.
Your target heart rate is about 50-70% of your maximum heart rate during moderate exercise intensity and about 70-85% of your maximum heart rate during vigorous exercise activity. These are general numbers, of course, but they can indicate whether your exercise routine is effective enough for you to reach your fitness goals.
To get a goo visual of how this works and to save you from having to do the math, take a look at the table below to determine these important numbers: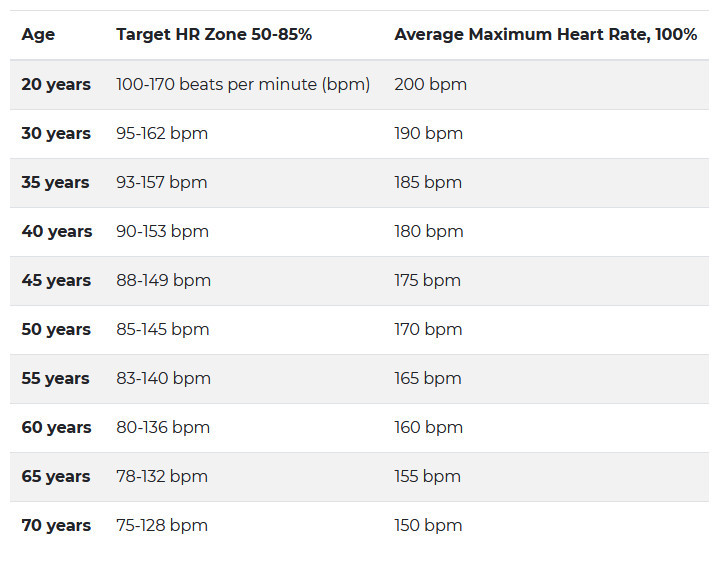 Why Knowing Your Target HR Zone Helpful During Exercise is Important
Many believe that if they exercise long enough and consistent enough they will automatically reach their fitness goals. Whether that be to lose weight or for maintaining overall general cardio vascular health. But, this isn't always the case, Sure, it is better to be consistent with your workout routine, but longer does not necessarily mean better. It is the intensity of the exercise that matters most.
You need to be exercising at a level of intensity to reach maximum benefit. One person can peddle a stationary bike for over an hour while someone else can peddle like a mad man for 20 minutes and the shorter duration gets more value. In general, in order to fully work ones heart muscle or tap into fat burning mode, a person should sustain their heart rate in their ideal HR zone for at least 20 minutes. So, if you are looking to lose weight or have a specific fitness goal, you are better off making sure this level is reached.

Monitoring Your Healthy Heart Rate During Exercise is Easy
Another reason it's Important to Monitor Your Heart Rate During Exercise is because it is very easy to do. It does not require a lot of extra effort or additional burden to your existing exercise routine. The reason for this is technology has allowed us to monitor our heart rate by simply utilizing a device such as a heart rate monitor.
There are several types of heart rate monitors but not all of them are designed to monitor the heart rate while exercising. For example, a heart rate monitor strapped to your chest may make it difficult to run or ride a bike. I believe the best types of devices are the ones that go on your wrist. A good fitness tracker or smartwatch would serve this purpose very well.
In fact, I have researched the best wrist heart rate monitors that you can read about and see if one of them is right for you.
Conclusion
As you can see a healthy heart rate during exercise is important to your exercise routine because you want to get the maximum benefit of your workout. Otherwise, you could either be working out too hard or not enough. I have found over the years that what you measure has the potential to improve something overall. This is true in many areas of life including health and fitness and overall well-being.
You can also see that measuring and monitoring your heart rate is not difficult and does not take any extra time or effort other than paying attention to your heart rate zone and your maximum heart rate. These are both great metrics and can be utilized to gain value and benefit from your routine exercise program. Of course, if you do not have an exercise routine or program, now is the best time to start one.
If you found value in the post, please feel free to share it by clicking on the red save button below:)