In this Tinwoo Smartwatch Review we will go into a lot of detail so that you can make an informed decision on whether this is a good low cost alternative to Apple Watch. This smartwatch is chalk full of features and benefits and is a great addition to your fitness device collection. If you are the type of individual who takes their exercise data seriously and you are not willing to shell out hundreds of dollars for the Apple Watch series, then you may want to take a serious look at the Tinwoo Smartwatch.
In this Tinwoo Smartwatch Review we will uncover all of the necessary components so that you can do your due diligence before you make a buying decision. You may decide to either purchase this smartwatch or you may decide to go a step further and look at the Apple Watch. The choice is yours and we are dedicated in helping you make the best choice suited for your overall fitness needs.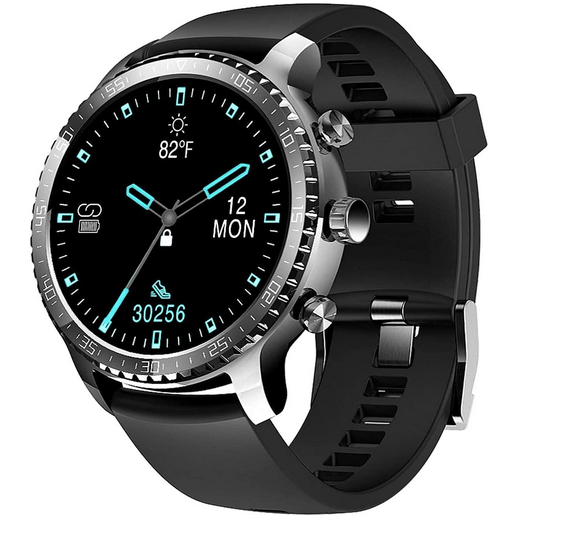 Tinwoo Smartwatch Review Specs
| | |
| --- | --- |
| Dimensions: | Dial alone: 46*46*12.4mm; Band Size: 260*46*12.4mm (with 22mm-width strap) |
| Weight: | 62g (with TPU strap) |
| Water Resistance: | IP68 Standard (5atm) |
| Display: | 1.3 inch full round display, 240*240 resolution |
| App Considerations: | Tinwoo, Support iOS 9.0 or above, Android 5.0 or above |
| Working Time: | 10-15 days before having to charge the battery |
| Standby Time: | 20 days |
| Battery Type: | Li-polymer 300mAh |
| Price: | $54.99 for the 46 mm and $48.96 for the 40 mm |
| Our rating: | 8.5/10 |
Overview of the Tinwoo Smartwatch Review
The Tinwoo Smartwatch is loaded with features and benefits. In fact, it is very difficult to list all of them in this review, however, we will highlight the important one as they pertain to your overall health and fitness goals and desires. First of all, this Smartwatch is for both men and women who take their fitness seriously and may not want to pay the extra money for a Apple Smartwatch or one of the other more expensive models.
This device supports wireless charging and some amazing Bluetooth capabilities. It is a fitness tracker and smartwatch that includes heart rate monitoring and is compatible with the iPhone and Android phones including Samsung. There are 14 different clock faces to choose from adding a huge amount of variety. It also supports GPS positioning and can pair and sync with your smartphone and its data.
This device also has call and message notifications. You can read and receive SNS and SMS messages and notifications straight to your device. It also supports Facebook, Twitter, WhatsApp, linkedIn and Instagram. We will go into more detail on the individual features and benefits below and you can get a brief overview by watching the video below.
Tinwoo Smartwatch Review Features
As mentioned above, the Tinwoo Smartwatch is packed full of features and benefits. In this section we will go over in detail a few of the more important features and benefits and answer the most common questions regarding this device. Some of these features were mentioned in the video above, but we would like to go into more details and what these features can do for you as you measure and monitor your fitness performance so that you can use this data to help you reach your individual health and fitness goals.
Many of the features and benefits you see in the more expensive models are also included in the Tinwoo Smartwatch as well. There are only a few difference such as getting access to some of the Apps that are only available for the Apple Watch. For example, having access to the Apple Watch Stress Monitor App.
All Day Activity Tracking
The all day activity tracking is an amazing feature. It monitors your activity 24 hours a day. The Tinwoo Smartwatch also has an amazing display which shows you your workouts anytime for your sports data. Plus with the GPS connected to your smartphone, you can view your distance, pace and your exercise map route. Plus it can support and track up to 9 sports modes to help you remain active and maintain that all important healthy lifestyle.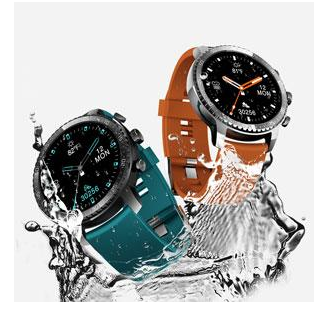 This all day activity tracking also includes a IP 68 waterproof rating design. This allows you to take showers, baths, or even allows you to swim in the pool without any worries. Although it cannot actually track your swimming data like some of the other more expensive Smartwatches.
Magnetic & QI Wireless Charging
The Tinwoo Smartwatch comes with a magnetic charging USB cable, an awesome 300mHh lithium polymer batter and it only takes 2 hours to charge the battery which will give you a full 10 to 15 days of active use on that one charge. Plus, with the addition of the wireless charging base, this device supports QI wireless charging. It should be noted that the wireless charge base is not included with the original package and has to be purchased separately.
Sleep Tracking
An area we feel is crucial to your overall health and fitness is a good nights rest. This amazing device automatically tracks and detects your sleep activity and helps provide you with data to detect deep sleep, light sleep and your wake up time. The device also allows you to set vibration alarm clocks to wake you up when you want to be woken up. It should be noted that the device only records the sleeping data that lasts more than 3 hours during the evening.
Multi-function Capabilities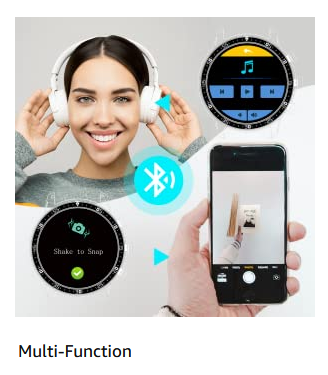 The multi-function capabilities are one of my favorite features of this smartwatch. The multi-functional aspects of the Tinwoo Smartwatch include the following:
Music controls that allow you to choose your most favorite music right from your wrist.
The built in Camera control allows you to free up your hand from having to hold your phone. You can actually operate the camera from the smartwatch directly.
Have you every lost your phone? Never fear, this smartwatch has a built in find a phone feature built in that allows you to find your phones that are completely out of sight. How cool is that?
About the Tinwoo Smartwatch Brand
In this section we will discuss the Tinwoo Smartwatch brand. Their history and goals associated with the fitness industry. The Tinwoo Company is not only a smartwatch company, but a life style company as well. They are located in Shenzhen, China and belong to the Zhongkaijia Electronics (Shenzhen) Co., Ltd. Their goals include to strive to harness technology into overall solutions to meet daily challenges of life. In other words, to live your very best life. They are convinced that the ideal wearable device should and can be perfectly balanced.
They have an internal concept of "Stay Fit With Your Style". They do have a line of smartwatches with different styles for people in different age groups. They have their own design and quality control teams to control the overall quality of their products and services. In addition to their smartwatch line of products, they also have a line of accessories to go with their final products.
Pros and Cons of The Tinwoo Smartwatch
As with any Fitness Device, there are pros and cons associated with them. In this section we will cover both the pros and cons of the Tinwoo Smartwatch.
Pros
IP 68 waterproof rating – Unlike many of the smartwatches on the market, the Tinwoo Smartwatch has an IP 68 waterproof rating. This means that the watch can get wet without causing harm to it. It can get splashed on, you can take a bath or shower with it on without damaging it, and you can swim with it on without damaging it as well.
Budget Friendly – When you compare this smartwatch to others with similar features you will find a tremendous difference in price versus the feature benefit ratio. With the Tinwoo Smartwatch being priced under $60 compared to other smartwatches in the $150 dollar price range, you begin to appreciate the value of this particular devise.
Various Colors and 14 Clock Faces to Choose From –
You get to choose up to 4 different colors and designs. Plus you get to choose from 14 different awesome looking clock faces that are capable of decorating different everyday scenes. Plus, the 1.3 inch display, which is quite large, it is very easy to distinguish the different icons. This allows an interactive experience.
Cons
Sleep tracking is inaccurate: There were a few complaints that the sleep function was inaccurate at times. When I looked into this in more detail, I found that the accuracy in the sleep tracking function is that it can only track a three hour or more event.
Find My Phone Feature In Vibrate Mode: There were a few complaints about the find my phone feature. It turns out that when your phone is in vibrate mode, that it is still difficult to find your phone with this feature.

Amazon Customer Reviews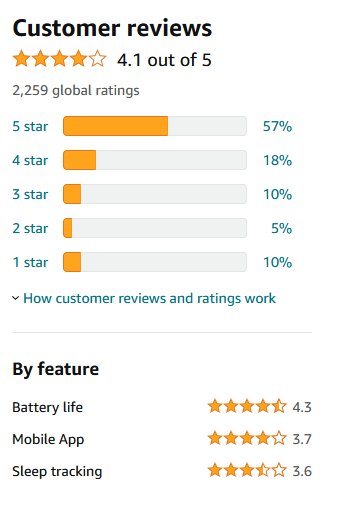 As you can see in the Customer Reviews rating image to the right, out of 2,259 global ratings, a 4.1 out of 5 star rating was given to the Tinwoo Smartwatch.
According to Amazon, 57% of the 2,259 global ratings rated this smartwatch at a 5 star rating. In addition to that, 18% of the people rating it gave it a 4 star rating.
So, what does this mean? This means that 75% of the 2,259 people responding to this device rated it above average. Keep in mind that these are actual users of this smartwatch.
In addition to this summary, Amazon offers their potential customers individual comments from people who have purchased products sold on their platform. Again, these are people who have purchased the device, plus are willing to indicate their likes and dislikes of the particular product.
In addition to this, as you can see from the image, there were star rating given by feature. In this case, a 4.3 star rating was given for battery life. There was also a 3.7 star rating given for the use of the Mobile App, and a 3.6 star rating given for the Sleep tracking feature. This type of data goes a long way and allows the potential customer to do their due diligence before deciding to make a purchase.
Below are some of the individual comments from actual owners of the product:
Tinwoo Smartwatch Review – Customer Reviews and Comments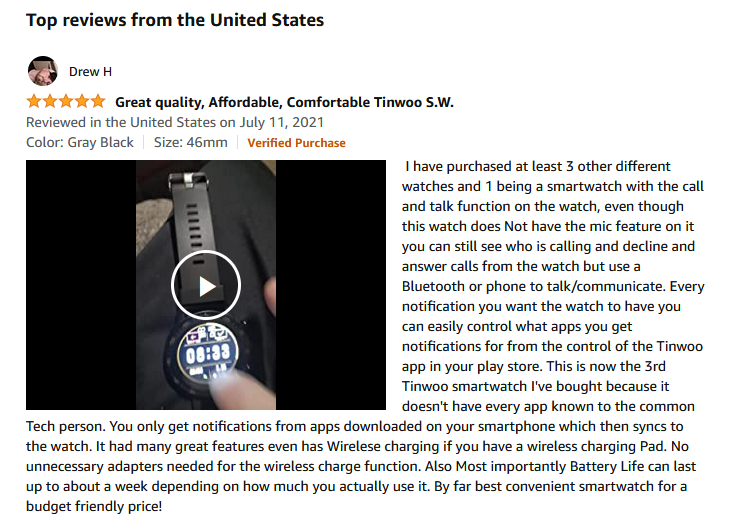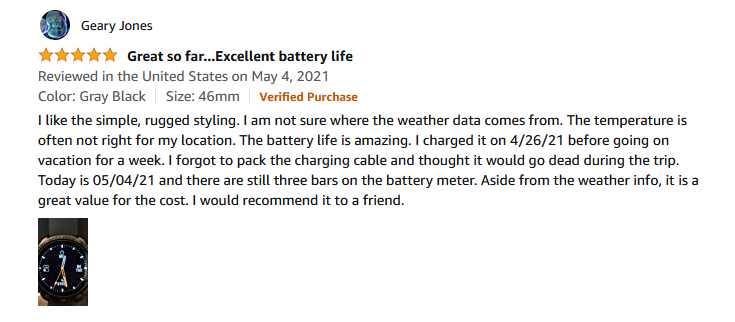 Common Questions About Tinwoo Smartwatch Review
What is the definition of the IP 68 Waterproof rating?
This is an international standard rating the deems the device to be "fit enough to withstand dust, dirt and sand, and are resistant to submersion up to a maximum depth of 1.5 meters underwater for up to 30 minutes".
Can this watch monitor blood pressure?
No, this watch cannot monitor blood pressure, but it does monitor your heart rate.
Does the screen come on automatically?
There is a two part answer to this question. First of all, yes, the screen turns on automatically, but you have to raise the watch to check it. This is what is known as the "raise-to-wake" feature.
Plus, you can either push the button to turn on the screen or use the "raise-to-wake" feature.
Read Next: Fitbit Not Tracking Sleep
Final Verdict
So, the final verdict of this Tinwoo Smartwatch Review is that overall we recommend this smartwatch. Especially if you do not want to pay the higher prices of something like an Apple Watch. Unless there are particular features you need that are exclusive to the Apple Watch, or another one of the more expensive watches. If you are an average person who simply wants a smartwatch that is capable of measuring your overall health and fitness, then this is the smartwatch for you.
We gave this Smartwatch and overall rating of 8.5 out of 10. The main reason for this rating is that it does not have some of the advanced features found in the more expensive models such as SOS functions and the ability to measure blood pressure and some of the more advanced heart monitoring features.
Final Thoughts About This Tinwoo Smartwatch Review
So, that concludes our Tinwoo Smartwatch Review. We really tried to take a deep dive into the features and benefits of this lower cost version of a fitness related smartwatch. One of the features and benefits that stood out for us is the wireless charging feature. We consider this to be a feature that a more advanced smartwatch would have. We feel that the Tinwoo Smartwatch is one of the best low cost smartwatches available on the market.
As far as low cost smartwatches go, you may also want to read our Canmixs Smartwatch Review here. We consider this one to be one of the best low cost smartwatches as well. Now if you are interested in reading more about the Apple Watch features and benefits, you can read our review on The Apple Watch Series 4 here.