Are you tired of carrying around your smartphone everywhere you go? Is your phone too big and bulky? Does your phone not fit in your pocket? Then maybe you should consider getting a smartwatch. In today's review, I'm going to show you what makes the CanMixs smartwatch different from other smartwatches available in the market.
This is a device that has been designed specifically for people who want to stay connected while they're on the move. Plus, they can be a great companion for your Android or iOS phone. I know there may be times when you want the freedom to be able to track your overall health and fitness without having to lug around your phone. Well, if that is the case keep on reading and find out how you can do this with very little investment.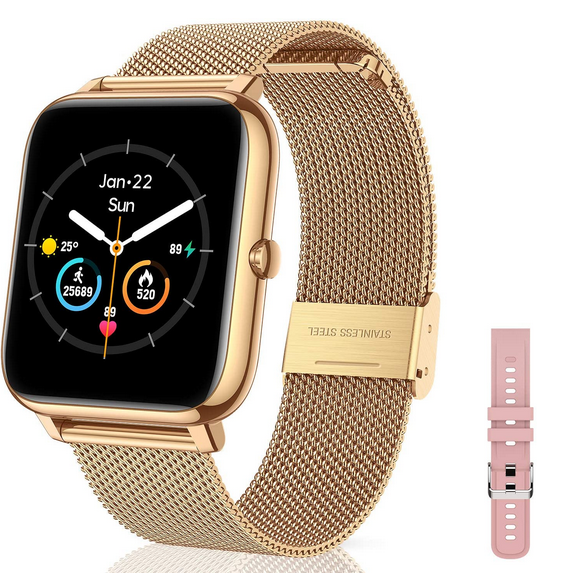 CanMixs Smartwatch Specs
| | |
| --- | --- |
| Dimensions: | 42mm/1.65inch;width:35mm/1.37inch;thickness:10mm/0.39inch |
| Weight: | 1.54oz / 43.9g |
| LCD: | 1.4/1.3 inch High Definition LCD |
| Compatibility: | Support IOS 9.0 and later, Android 5.0 and above |
| Resolution: | 240 x 240 pixel |
| G-sensor: | Support Incoming message and call remind, Pedometer, Calories Calculation, Sedentary remind, Heart rate monitor, Blood pressure measurement, Sleep monitoring, Remote photos, Music control, Alarm clock and so on. |
| Price: | $44.99 |
| Our rating: | 9/10 |
Overview of the CanMixs Smartwatch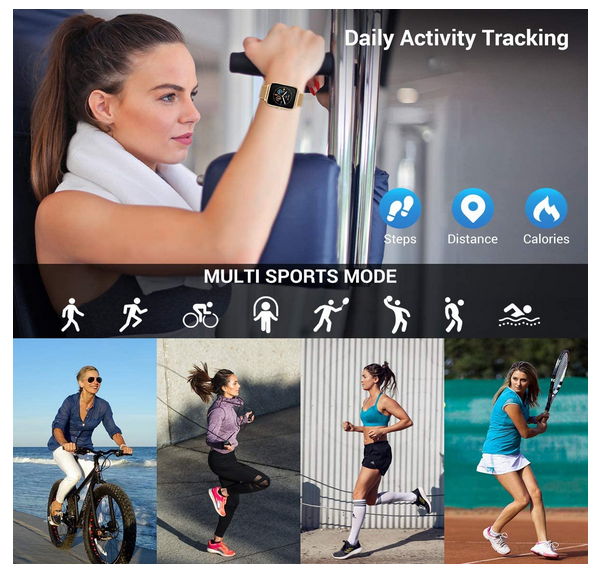 The CanMixs Smartwatch is a very fashionable smartwatch that features a full Touch Classic Screen Design with 1.4 inch HD glass screen. It even has a color on-screen display. It has an adjustable silicone strap which makes it very comfortable to wear.
It is an excellent hiking watch with a built in altimeter. It also features an all-day activity tracker that shows distance, steps, and calories burned. It also monitors breathing, blood pressure, heart rate, and sleep tracking. As one of the best low cost smartwatches, you simply cannot go wrong with this smartwatch. It is a great companion for your smart phone, whether it be an Android or Apple.
It has an accurate activity tracker that comes complete with 8 sport modes: walking, running, bicycle, swimming, badminton, basketball, football, rope skipping and gives you detailed insight into your whole day activities. It connects to your smartphone's GPS. It is also IP67 waterproof so you can wear it when swimming and record various swim data.
CanMixs Smartwatch Features
The CanMixs Smartwatch is jammed packed with features. Too many to really list here. These features include DIY Background Full Touch Screen, fitness tracker with 24/7 heart rate monitor, call messages notifications, the ability to check the weather, music control and much more. Below are some of the main features followed by some detail to give you a good idea of what you can expect from this amazing fitness device.
Fitness Tracker With 8 Sport Modes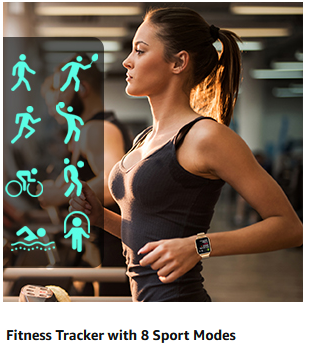 This is pretty cool. The CanMixs smartwatch not only has awesome fitness tracking capabilities, but, as mentioned before, it supports multiple sport modes. In fact, it supports 8 of these modes that includes running, walking, swimming, bicycling, basketball, badminton, rope skipping and football.
This means that after you workout, not only can you can check the data on this smartwatch or the related app, but you can also sync this data to your app. Then you can make informed adjustments by analyzing this data and then sync your sports data through the smartwatch itself. This allows you to arrange and design your own fitness plan.
So what data are we talking about? Exercise time, average heart rate, distance, steps, and calories burned. In addition to your sports data.
DIY Background Full Touch Screen
This is another pretty cool feature. The Do it yourself background full touch screen allows you to choose your favorite pic and make that as your background for the screen on your smartwatch. In other words you can customize it with your own picture.
This large HD screen allows you to have a much better visual experience. It has 240 X 240 HD resolution giving you a very clear and colorful visual effects. So, not only does the watch come with many different faces to choose from you can also set your own photo as the background quite easily.
IP67 Waterproofing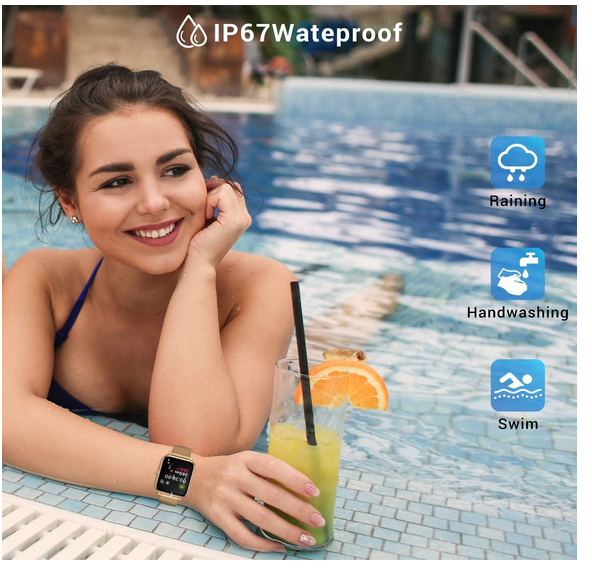 This smartwatch is IP67 waterproof. Which simply means that you can wear it when swimming and record various data, take a shower with it on and not worry about damaging the watch. This rating means that during the testing phase, it can be "immersed in 1 meters of freshwater for up to 30 minutes".
Fitness Tracker with 24/7 Heart Rate Monitor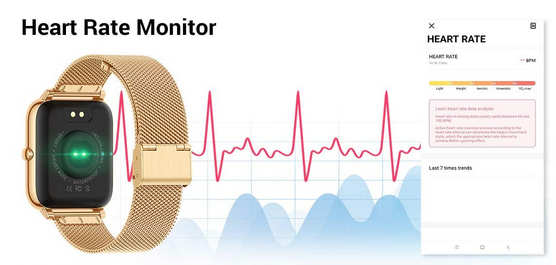 The CanMixs Smartwatch also has an excellent advanced heart rate sensor. In other words, it can monitor your heart rate 24/7. In fact, it can monitor and measure your heart rate every 5 minutes all day automatically. Also, you can manually track your heart rate in real time right on the smartwatch itself. Plus, you can check the heart rate in the "heroband III" app intuitively. If that is not enought, this smartwatch can also track your blood pressure and blood oxygen level very conveniently.
About the CanMixs Smartwatch Brand
The CanMixs Smartwatch brand is known as CanMixs Co., Ltd. They are considered a Top Rated seller that is trusted by over a thousand Amazon customers in the US alone. They have been selling on the Amazon marketplace since 2017
According to Amazon, they have been rated as a 4.5 out of 5 stars, and indicating 93% postitive in teh last 12 months with 463 ratings. CanMixs Co., Ltd focuses on Smart Wear, Bluetooth Earphones and other 3C prodcuts. They design and production originated in Shenzhen, China and are fast growing into a professional wearable product enterprise integrating R&D and sales. They have sales channels on Amazon platforms in Europe, the US, Japan, all of which are well received by customers.
Pros and Cons of The CanMixs Smartwatch
As with any Fitness Device, there are pros and cons associated with them. Below are the Pros and Cons of the CanMixs Smartwatch.
Pros
Long Battery Life
This smartwatch comes with a 180 mAh large capacity Lithium Polymer battery and can last between 7 to 10 days when it is fully charged. This range is based on individual usage.
Nicely Priced
While smartwatch technology advancing as fast as it has, CanMixs has managed to keep the prices of this watch fairly low compared to other smartwatches on the market. This price is less than $50 and has features available that are found in watches three times the price.
IP67 Waterproof
While many smartwatch are only water resistant, this one is actually waterproof. Meaning that you can submerge it into water without damaging it. In fact, it is designed to be able to swim with in on.

Cons
Heart Rate Accuracy
Some users have complained that sometimes the Heart rate monitor shows inaccurate results. There may be a lot of factors associated with inaccurate heart rate monitoring. Some of these include how tightly you wear the watch.

iPhone Connectivity
Some iPhone users mentioned that sometimes they had to use several attempts to connect the smartwatch to their iPhone. In some cases, it took 3 to 4 attempts, but eventually it connected.

Amazon Customer Reviews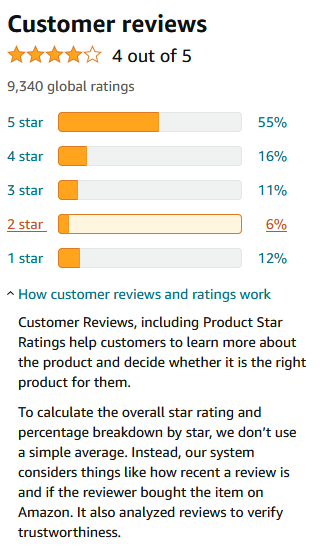 As you can see in the Customer Review image to the right, out of 9340 global ratings, 4 out of 5 star rating was given to the CanMixs Smartwatch.
According to Amazon, 55% of the 9,340 global ratings rated this smartwatch at a 5 star rating. In addition to this, 16% of the people rating this smartwatch rated it as a 4 star ratings.
This means that 71% of the 9,340 people responding to this smartwatch rated it above average. Keep in mind that these are actual users of the device.
In addition to these star ratings, Amazon offers actual comments from people who have purchased this device. Again, these are people who have used the product and were willing to indicate their likes and dislikes of the device.
This goes a long way to help the reader to gather enough information to do their due diligence when it comes to deciding whether they should make a purchase. Below are some of these reviews. This is a sub-sample and you can go on Amazon to see all more.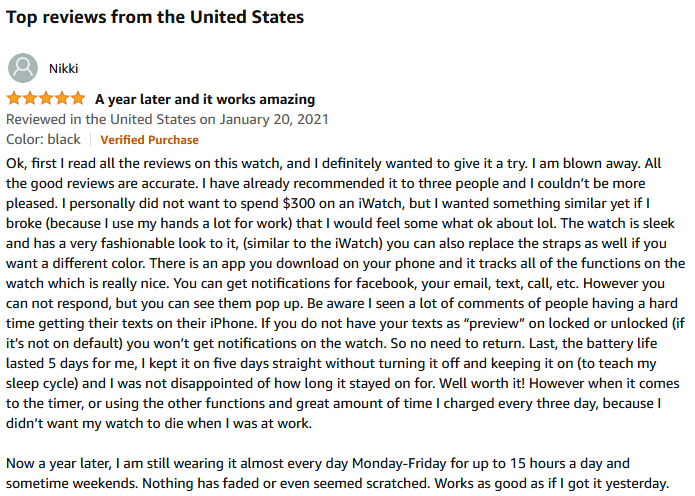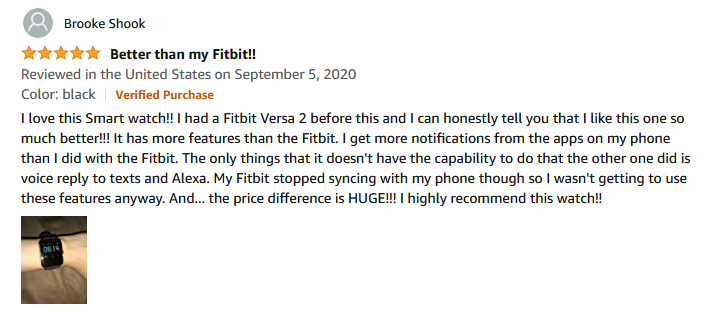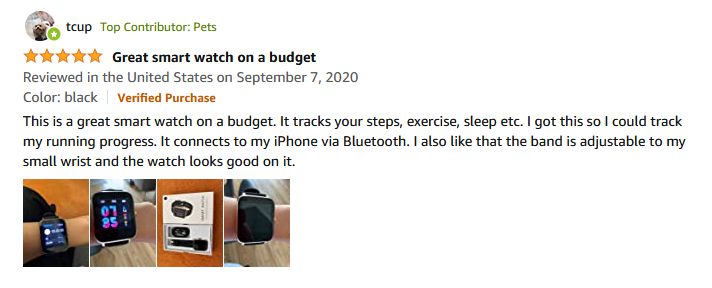 Common Questions About The CanMixs Smartwatch
While doing our research on the CanMixs Smartwatch we found quite a few questions that customers were submitting into Amazon. We decided to take some of the more common questions and address them here. Below are some of the common questions followed by answers to them.
How Do You Connect it or pair it to your phone?
You have to first install the 'Heroband III App to your phone and then turn on the Bluetooth of your phone. You then open the application interface of the app and click on 'Settings' on 'My Device' interface to search for the Bluetooth devices for the watch.
Does the watch have GPS?
Yes, it does have GPS for tracking purposes. For example, it can track a route you have taken for running or biking. But, it does not allow your watch to be tracked by other people.
Where can you buy Replacement bands?
Amazon.
Final Verdict
So, what is the final verdict? We believe that the CanMixs Smartwatch is a great watch for those on a budget. Yes, there are more accurate smartwatches available with more features and benefits, such as the Fitbit Sense. However, this smartwatch is over over twice the price. It also depends on your specific needs and whether you are a runner or someone who is interested in general health and fitness.
For example, if you are a runner and you may be running in marathons or thinking about it, you may want to look at a smartwatch like the Garmin Vivomove HR. Especially if you are looking for a nice looking watch with an analog facing with a second hand. There is a lot to choose from.
But, as previously mentioned, the CanMixs Smartwatch is a great smartwatch for those who want all of the basic features and are interested in tracking their overall health and fitness and are interested in the waterproofing feature. We gave this device an overall rating of 9 out of 10.
Conclusion
So, in conclusion, the CanMixs Smartwatch is a great smartwatch and is very nicely priced. It has a number of features and benefits that include things like Heart rate monitoring, the ability to track steps, calories burned, blood pressure monitoring and more. It is a great companion to your smartphone, whether that is an Android or iOS.
We could not cover all of the features in our features section so here are a few others. It has an Auto Sleep Tracker with a silent alarm clock. This feature allows you to automatically monitor and analyze the quality of your sleep and provide you with data for deep sleep, light sleep and the time you woke up. It also can wake you up with a vibration alarm clock.
This device also has call messaging notifications. This allows you to get notification from phone calls, app notifications, and email notifications. You can even get calendar alerts and read your messages directly from your watch.
So, as you can see, there is a big punch for your dollar here and we do recommend the CanMixs Smartwatch.