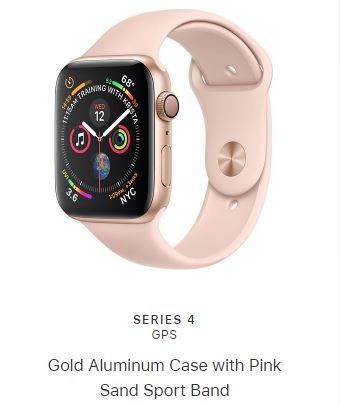 You really cannot discuss smartwatches without discussing the latest one from Apple. The Apple Watch Series 4 is the most popular smartwatch (according to Apple), and in the apple watch series 4 review we will do our best to deliver as much detail as possible to help you decide if this watch is for you, and if so, which one, for Apple does offer different choices as we will soon discover.
The main difference from the last version (Apple Watch Series 3) is definitely in the design itself. Apple offers a larger screen with more rounded edges and certainly has an appealing look to it. In fact, it offers us the largest Apple watch display yet.
It is a bit bulky for a woman's wrist, but if you are in need of the Apple exclusive safety features, it may be the best pick. This is strictly for the one who actually needs these features, such as the improved accelerometer and gyroscope for fall detection, which we will discuss later.
It is nice that Apple is offering some choices here, since some people may want the cellular feature and some may not. For those who may not, they have a lower price point. Let's go ahead and dive into more details concerning Apples newest smartwatch.
About The Apple Watch Series 4 Review
---
First of all, Apple offers the Series 4 in two different categories:
Apple also offers two different display sizes for both of these versions. This is Illustrated by the pic below, and, of course a price difference between the two, depending on which size face you choose.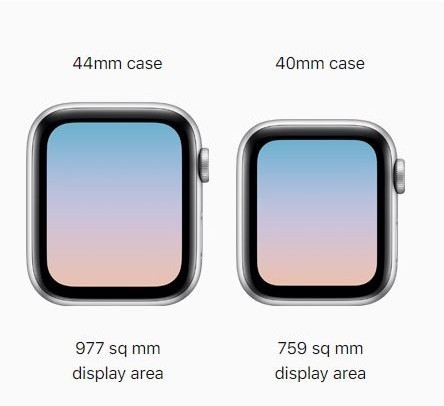 As mentioned before, Apple offers two versions of this amazing smartwatch. One with GPS and one with GPS plus cellular. There are quite a few great features for both of these versions that I would like to discuss in more detail in addition to discussing the difference between the Apple Watch Series 4 and the Apple Watch Series 3. Apple has introduced some new features and it may be necessary to discuss whether these features are worth the increase in price.
It will also be helpful to know that there are really four different price points to discuss and we will try and simplify this as much as possible. Remember, we have two price differences depending on whether you want cellular or not and two price differences relating to screen size.
Let us first dive into the differences between the series 3 and the series 4. What does this new version really offer, besides the higher price tag. Take a look at the image below for guidance:
Apple Watch Series 4 verses Apple Watch Series 3
---
Two of the main differences between the series 4 and series 3 is the series 4 has the electrical heart sensor and the fall detection feature. There is a lot to be said about the fall detection feature. In fact, it has been reported that a Norwegian man who was 67 years old, was found "bloody and unconscious" by emergency authorities, where the fall detection feature automatically alerted emergency services.
The man fell when he went to the bathroom and was found on his bathroom floor NRK reported.
This is an amazing feature. When wearers of the Apple Watch Series 4 fall, the device actually checks in to ask if they are fine. If they do not respond within a minute, the fall detection feature automatically calls the emergency services and shares the uploaded information of the wearer's location. More details on this feature along with the others in the feature section listed below.
The other differences are revealed in the case size. The Apple Watch Series 4 offers the 40mm and 44mm case size whereas the series 3 offers the 38mm and 42mm case sizes respectively. The case is thinner for the series 4 at 10.7mm verses 11.4mm. This allows for a more sleek look and feel. This is much better, especially from a woman's perspective.
We will discuss the electrical heart sensor in more detail below in the features section, but this is the other added feature that Apple offers us on the Series 4.
Who Is The Apple Watch Series 4 For?
---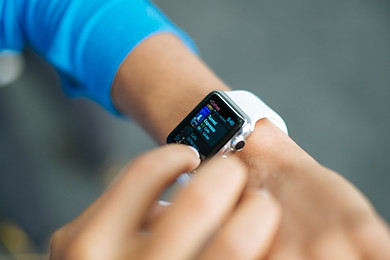 The Apple Watch Series 4 is for someone who wants the features that this smartwatch has to offer that are not available in other smartwatches. Plain and simple.
One of the Apple Watch Series 4's main features is the electrical heart sensor, for example. It gives the ability to take an ECG measurement of your heart's electrical pulses to gauge your internal heart health and then gives you a vague baseline for your overall wellness. It's been approved by the FDA. But, unless you really need this feature, you may be sacrificing other features available in other smartwatches for a lower price.
The other feature mentioned above, the fall detection, also comes at a price. Not just the price itself, but you get a much larger smartwatch, that lacks the sleep monitoring features available for other models in addition to a very short battery life. For example, the Apple Series 4 has an 18-hour battery life verses 6 plus days for the Fitbit Sense.
Of course, you get the cellular option, so if you are someone who really does not want to carry their cell phone with them and needs full feature GPS, then this watch may be your best bet, otherwise, the FItbit Versa may be a better fit for you.
From a woman's perspective, if you are looking for a more comfortable and smaller elegant design, then this may not be the smartwatch for you. However, if you are a serious runner and really like the idea of having a full fledged GPS and serious heart rate monitoring that this is the Apple Series 4 is for you.
The Apple Watch Series 4 Features
---
All things said, the Apple Watch Series 4 is absolutely loaded withe features and it is worth talking about the more prominent ones separately.
So, let's take a look at a few of these features along with their appropriate descriptions:
All New Design
---
On the Series 4 Apple offers the largest watch display to date. It has a new electrical heart sensor and has re-engineered its digital crown with haptic feedback. This haptic feedback is one of Apple Watch's very cool features. It is what is known as the Taptic Engine, which sends the user a haptic feedback, or a very light tap on your wrist when you receive a notification. Unlike the very annoying vibration or chime you get with other devices.
The design offers curved corners that match the radius of the case. This creates a more pleasing overall appearance. This allows the touch surface to extend to the farthest reaches of the screen.

Proactive Health Monitor
---
The intent of this design feature is to improve your health on a daily basis and is actually powerful enough to help protect it. It can do this by helping you manage everything from everyday stress to calories burned. It obviously monitors your heart and lets you know if it detects something of concern. Then, there is the fall detection and emergency SOS. Let's discuss each of these aspects separately.

ECG (Electrocardiogram)
In conjunction with the ECG app, the series 4 can generate an ECG similar to a single-lead electrocardiogram. This can provide critical data for doctors and, of course, peace of mind for the user.
So, how does all of this work? Well there are electrodes built into the Digital Crown and the back crystal that work together with the ECG app that reads your heart's electrical signals. You just touch the crown and that generates an ECG waveform in a matter of just 30 seconds or so.
The app can then indicate whether your heart rhythm shows any signs of atrial fibrillation, which is a serious irregular heart rhythm. Or, it will detect a sinus rhythm, which indicates your heart is beating in a normal pattern.
The information resulting from the ECG, its classification, and any additional notes that have been entered on related symptoms are automatically stored in the Health app on your iPhone. This, of course, can be shared with your doctor which allows a better-informed conversation about your health.
As a Cardiac Nurse I find this to be an amazing feature and great information to be shared with medical professionals. But, if you think that is amazing, check out the next aspect of the proactive health monitor, fall detection. In fact, along with the Emergency SOS, this deserves a completely separate heading of its own.
Fall detection and Emergency SOS
---
With the help of the accelerometer and gyroscope, the Apple Watch Series 4 can actually detect that you fell. When an accident like this occurs, a hard fall alert is delivered, and you can either initiate a call to emergency services or dismiss the alert. However, If you're unresponsive after a minute, the emergency call will be placed automatically. The emergency contacts that you entered, will then be notified and sent your location. As mentioned above, there are examples where this has potentially saved lives.
The Emergency SOS feature works with the fall detection and allows you to quickly get help. It calls 911, notifies your emergency contacts, sends your current location, and displays your Medical ID badge on the screen for emergency personnel. The advantage of the Apple Watch Series 4 with cellular is that it does all of this even when you're miles away from your phone.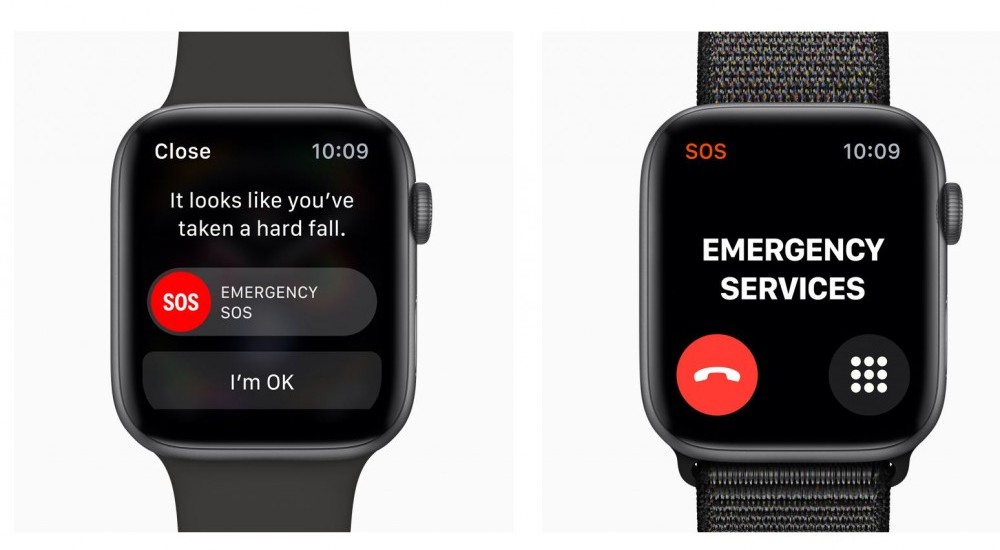 Ultimate Workout Partner
---
The Apple Watch Series 4 is really more than just a sports watch. It's like having a personal trainer on your wrist that actually understands the way in which you work out. All the way from swimming to running to even yoga. It puts in every metric you need at your immediate access.
The workout app literally works every way you choose to exercise. It allows you to set individualized goals, tracks your progress over time in the Activity app on your iPhone and measures calories burned.
Now, let's take a look at what the Apple watch series 4 does for the serious runner. The series 4 is full of great features to help the user get more out of his or her run. It has a pace alert that allows one to choose a target pace and will even send out a gentle tap on the wrist to let you know if you are ahead or behind where you want to be.
There is a metric that is referred to as cadence. This lets you observe your steps per minute that helps you refine your running technique. A quicker cadence can mean faster run time and reduced injuries, for example. Another metric that is used is rolling pace. This is a metric that constantly updates and allows one to see your split for the preceding mile at any time.
Connected Gym and Automatic Workout Detection
---
In addition to the ultimate workout partner, the Apple Watch Series 4 has the ability to pair your watch with certain compatible gym equipment. This way you can keep important stats and metrics like speed, calories burned and heart rate in sync between your watch and stair climber, treadmill, or spinner bike for example.
Now for your more popular workouts, the Series 4 actually can sense when you are moving and can alert you to start the workout app. This is smart technology at its finest. It can even give you credit for exercises that you have already started and will even remind you to stop or end your workout, in case you got distracted while you are cooling down.
Now there are other features that are typical of other smartwatches such as music and podcasts as well that you can check out on Amazon, and of course it is water resistant up to 50 meters and tracks both pool and open water workouts.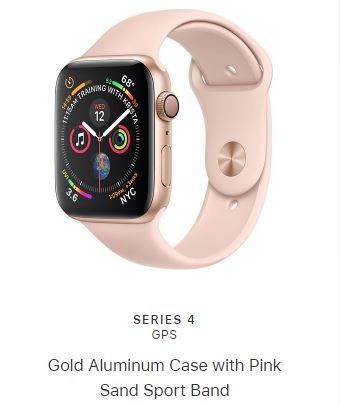 Not all the features have been covered in this section for I just highlighted the one's that are more exclusive to the Apple Watch Series 4. Not only that, but there are really 4 different watches to choose from since the GPS version offers two sizes and the GSP + Cellular also offers two sizes as well. To see each one individually with features, benefits and prices, click on the appropriate image below.


The Apple Watch Series 4 Review – Amazon's Take
---
I think everyone would agree that reviews from people who have owned the product count. Yes indeed, I believe this is a valid place to discuss reviews from Amazon's site from owners.
For example, the Apple Watch Series 4 (GPS, 40mm) Space Gray Aluminum Case with Black Sport Band had 445 customer reviews and out of those reviews 85% gave a 5 star rating of this smartwatch. There was 5%, however that gave a 1 star rating and that was mainly because they compared it to a previously owned Fitbit that "cost a fraction of what this cost" and felt that the Fitbit had a better activity tracker. This one review did not state which Fitbit they had though.
Now the more expensive model, the Apple Watch Series 4 (GPS + Cellular, 44mm) – Space Gray Aluminum Case with black sport loop had 175 customer reviews and out of those 82% gave a 5 star rating and 7% gave a one star rating. The lower rating seemed to attribute the short battery life as the main complaint.
So, overall, it seems owners of this product like it and feel it was worth the money they paid for it.
Now, since this is a woman's fitness site, as we always ask,
Is This The Best Smartwatch For Women?
---
At this point let us go ahead and take a look at the Pros and Cons.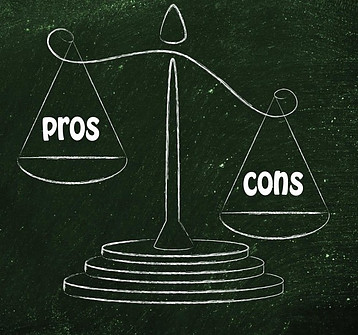 Pros
Fast performance
Awesome Health Features, ECG
Nice Looking Display
Fall Detection saves lives
Emergency SOS
Awesome Workout App
Cons
Short battery life, 18 hours
No Sleep monitoring (most likely because of the short battery life)
Expensive
Fitness tracking is not as good as some of the lower cost Smartwatches, such as the Fitbit Versa.
Quite Large for women
So, to answer the question above, if you are really interested in the GPS and/or cellular feature, or you have a need for the ECG and Fall detection, we believe that the Apple Watch Series 4 may be the best smartwatch for women. It is a great smartwatch and, as mentioned before, it is for the person who is specifically interested in the features mentioned above.
If, on the other hand, you do not really want all of these features and you want a lower cost alternative, you might want to check out our Tinwoo Smartwatch Review here.