Are you interested in buying a Peloton bike? Or maybe you already have one and want the answer to the question, what heart rate monitors can I use with Peloton? In this article, we will go through some of the different types of heart rate monitors available and explain why they work well with the Peloton bikes.
We'll start by explaining the basics of heart rate monitoring and why you need to monitor your heart rate while using your Peloton bike. Then we'll take a look at some of the top heart rate monitors currently available. Finally, we'll show you how to choose the right heart rate monitor for your Peloton bike.
So, what heart rate monitors can I use with Peloton? The short answer is that you can use any heart rate monitor that is ANT + compatible. But what does that all mean and which ones are the best to use? Keep reading, and we will explore this question along with many others.
Heart Rate Monitoring basics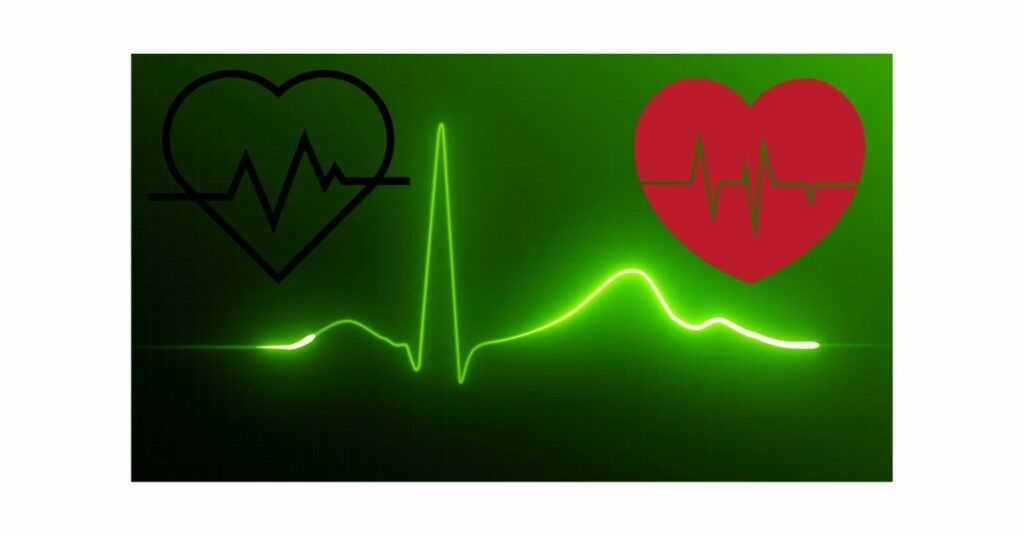 A heart rate monitor measures the number of times your heart beats per minute (bpm). Your bpm varies throughout the day depending on many factors, including your activity level, stress levels, sleep quality, and diet.
Your resting heart rate is usually between 60 and 80 bpm. When you exercise, your heart rate increases until it reaches its maximum capacity, then it decreases back down to normal when you stop exercising.
Monitoring your heart rate allows you to see if you are reaching your target heart rate zone during your workout. If you are not hitting your target heart rate, you may need to adjust your workout intensity or duration.
Why You Need To Measure Your Heart Rate While using Peloton
When you buy a Peloton bike, you don't just get a workout machine; you also get access to a community of people who love fitness too.
But there's another reason why Peloton is such a big deal — they offer live classes where instructors teach you exercises while you ride along. And when you sign up for a class, you'll need to wear a heart rate monitor to track your progress.
Monitoring your heart rate while exercising is important because it helps you achieve better results. It also gives you an opportunity to compare yourself against others who are doing the same workouts as you.
If you're looking to lose weight, you should try to keep your heart rate within a certain range. This is called aerobic training. Aerobic training improves your endurance and stamina so that you can exercise longer without getting tired.
If you're trying to build muscle mass, you should aim to keep your heart rate above 70% of your max heart rate. This type of training builds strength and endurance.
What Heart Rate Monitors Can I Use With Peloton?
So, let's go ahead and answer the initial question in more detail. What heart rate monitors can I use with my Peloton Bike? As mentioned before, Peloton allows you to use any heart rate monitor that is ANT + compatible.
So, what does this mean? ANT+ stands for interoperability,  which simply means that these types of products from different brands work together. The Peloton website offers a link to a website that shows top brands and compatible devices here.
If you do not own a heart rate monitor, you can check out the two Peloton Heart Rate Monitors here.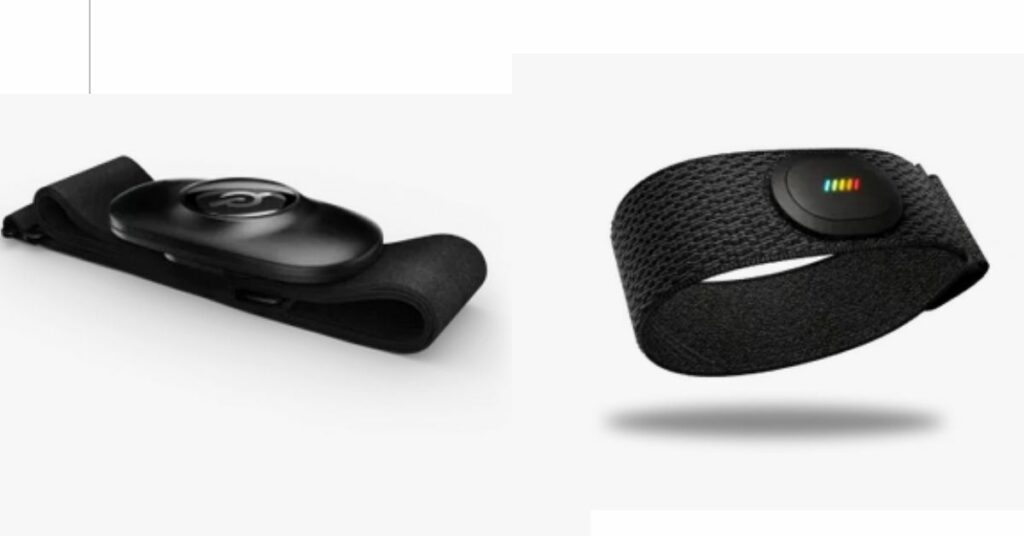 They offer a chest strap monitor as well as an an arm band version.
If you already own a Peloton here is how to use a peloton heart rate monitor.
Heart Rate Monitors Compatible with Peloton
So the original question is what heart rate monitors can I use with Peloton? As mentioned above, you can use any heart rate monitor that is ANT + compatible with Peloton. However, since wrist and arm heart rate monitors are the most convenient for exercising, we recommend the following heart rate monitors that are compatible with Peloton:
SUUNTO 9 Baro & Peak, GPS Sports Watch
Fitbit Sense Advanced Smartwatch
POLAR Verity Sense Optical Heart Rate Sensor
These are our 3 best wrist heart rate monitors.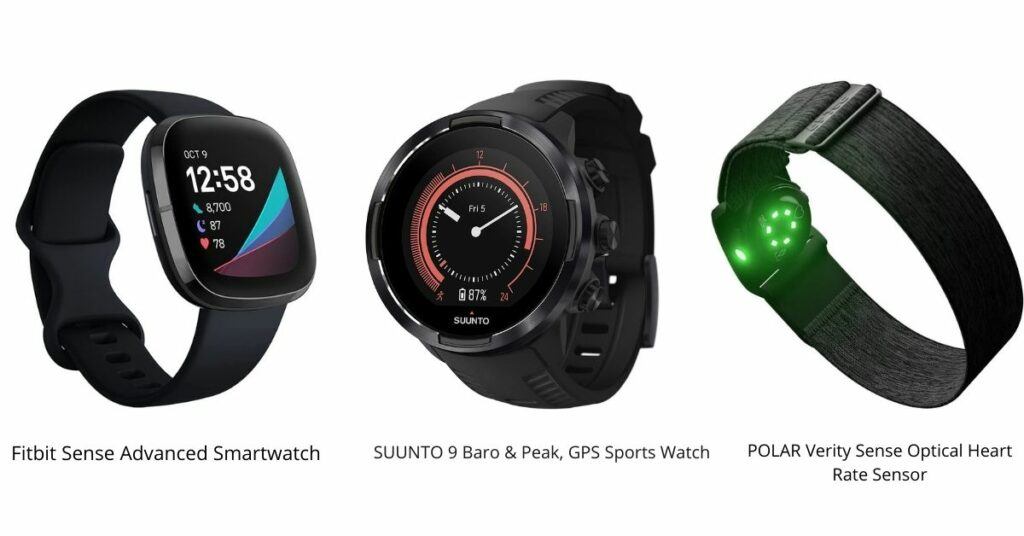 Different Types of Heart Rate Monitors
There is a heart rate monitor built into the Peloton bike that is only intended to roughly monitor your heart. It is not intended to work like one of the three main types of heart rate monitors, which are:
Chest Strap heart rate monitors
Wrist band heart rate monitors
Arm band heart rate monitors
The main difference between these types are accuracy. Generally, chest strap monitors are the most accurate, followed by arm band monitors and then wrist monitors.
Wrist heart rate monitors also fall into two general categories. Fitness trackers with built in heart rate monitoring and Smartwatches with built in heart rate monitoring. The choice is really up to personal preference. For example, You may be interested in a fitness tracker if you are mostly interested in measuring and monitoring your overall health and fitness. Or, you may be interested in owning a smartwatch so that you can utilize GPS and some of the other smart features.
There are also what is known as hybrid watches. These are newer smartwatches that have all of the advanced fitness tracking capabilities. These types of devices are generally warn by hikers, runners and fitness enthusiasts.
Frequently Asked Questions
What Heart Rate Apps Work With Peloton
Basically any heart rate app that is ANT + compatible will work with Peloton. This includes many different heart rate monitors and associates apps.
Does OTF Heart Rate Monitor Work With Peloton?
Yes, the OTF Heart Rate Monitor does work and Pair with Peloton. This can be done with just about any Bluetooth compatible device. The Peloton equipment are very versatile and can work with most of the popular heart rate monitors on the market today.
Does Garmin Heart Rate Monitor Work With Peloton?
Yes, since the Garmin Heart Rate monitors are ANT+ compatible, they will work with the Peloton devices.
Conclusion
Peloton has been a huge success since its launch in 2015. In fact, it was recently named the fastest growing fitness company by Inc. Magazine.
The company sells stationary bikes that allow users to stream live classes via their smartphones. They also offer spin bikes, elliptical machines, treadmills, and other exercise equipment.
However, many people struggle to find heart rate monitors that work well with these devices. This is because the sensors used in these machines aren't designed to monitor heart rates accurately.
We have provided several options for you to answer the question, What Heart Rate Monitors Can I Use With Peloton? We have also given you a few different heart rate monitors to choose from in addition to the two that Peloton offers. If you have a particular heart rate monitor that would like us to review or let you know if it is compatible with Peloton, feel free to comment below and we will be more than happy to answer you.