If you have been asking yourself what is the best Fitbit for 2022, then look no further. If you have been looking at getting a fitness tracker that has all of the features and benefits to help you reach your health and fitness goals, you may want to check out the Fitbit Charge 5 Advanced Fitness Tracker.
In this review, I will reveal everything you need to know about Fitbit's latest fitness tracker release. You will then see why we consider this the best Fitbit for 2022.
The Fitbit Charge 5 Advanced Fitness Tracker Specs
| | |
| --- | --- |
| Window size: | 1.04″ diagonal, Screen height: 0.86″, Screen width 0.58″ |
| Battery Life: | Up to 7 days |
| Water Resistance: | To 50 meters |
| Price: | $$$ (Check the latest price) |
| Our rating: | 9.5/10 |
Overview of the Fitbit Charge 5 Advanced Fitness Tracker
The Fitbit Charge 5 is Fitbit's most advanced fitness and health tracker that tracks your steps, distance, calories burned, sleep quality, and heart rate. It also has a built-in GPS that allows you to track your runs and walks, an on-wrist ECG app to monitor heart health and an EDA scan app to help with stress management and much more. It also comes with the Fitbit premium membership that enhances your overall health and fitness reality.
This device gives you a daily readiness score, plus personalized exercise recommendations based on your activity, sleep and heart rate. It also has hundreds of workouts to help you stay fit and customize your fitness routine.
This device is ideal for runners, cyclists, hikers, and anyone who wants to stay fit and track there way to meet their health and fitness goals. You can also use the Fitbit app to customize notifications from your smartphone or computer. Let's take a look at some of the reasons why it's our top rated fitness tracker.
The Fitbit Charge 5 Advanced Fitness Tracker Features
The Fitbit Charge 5 offers a variety of features which make it a great reason to consider getting this advanced tracker. Let's jump in and take a look at the various features in more detail.
Heart Health
With the ECG feature you can focus completely on your heart health. This app assesses your heart for something known as atrial fibrillation, which simply means an irregular heart rhythm. Plus you get heart rate notifications that tells you when you are below or above your threshold.
You can also Use and of the 20 built in exercise modes to set your personal goals for things like runs, rides, strength training and much more. Plus, you can get real-time stats to help you keep up the pace or just maintain your target heart rate zone. This is a very useful way of knowing whether your workout is too much or too little for you to reach your personalized goals.
Health Metrics
Tracking trend in your fitness journey can significantly help you reach your health and fitness goals. Whatever they may be. Especially when you monitor health metrics such as SpO2, which measures the level of oxygen in your blood, heart rate variability, and breathing rate just to name a few.
You can also view personal trends for each of these metrics from the past month with your six month premium membership included in the purchase of the advanced fitness tracker. This is a huge added value to purchasing the Fitbit Charge 5.
Built in GPS
Built in GPS allows you to have more freedom with your fitness device. For example, you can go without a phone on hikes, runs, and bike rides in real time! Plus, you get a real time workout intensity map located in the Fitbit App where you are able to see your heart rate zones and your pace.
You can then take this one step further by taking your walks and runs up a notch with guided audio workouts. These come with your 6 month Fitbit Premium membership (included with the purchase of the tracker).
As mentioned before, when you purchase the Fitbit Charge 5 Advanced Fitness Tracker, you get 6 months of Fitbit Premium included in the prices of the tracker. But, you may be wondering what the Fitbit Premium membership actually is.
Fitbit Premium is an online community where you can interact with other members and receive personalized coaching and guidance from experts. The Premium subscription service offers additional features and functionality for Fitbit users who are looking to get more out of the experience or find more motivation for making health changes.
Fitbit Premium offers additional features and tools not available in the standard Fitbit experience. These include Sleep Tools, Guided Programs, Workouts, Advanced insights, Challenges and access to a Health Metrics dashboard.
About the Fitbit Brand
Fitbit, Inc. is a global leader in wearable technology for health and fitness. The Company's mission is to empower people everywhere to live healthier lives by helping them track and connect with their health and fitness data. Fitbit's family of wearables includes smartwatches, fitness trackers, sleep monitors and wireless activity trackers.
In addition, Fitbit provides software services and applications that enable individuals and healthcare professionals to create custom experiences using this data in new ways. Fitbit was founded in 2007 and is headquartered in Ithaca, New York.Fitbit was a privately held company headquartered in San Francisco, California. The company was founded by James Park and Eric Friedman in 2007, and has raised over $100 million to date. In 2014, the company had revenues of around $200 million.
In August 2015, Google acquired Fitbit for an undisclosed amount. As of September 2017, Fitbit's net worth is estimated at about $1 billion. It is currently worth more than the combined market capitalization of its closest competitors (Apple and Jawbone)
Pros and Cons of the Fitbit Charge 5 Advanced Fitness Tracker
As with any product, there are pros and there are cons. Below are the Pros and Cons of the Fitbit Charge 5 Advanced Fitness Tracker.
Pros
Sleep Tracking
The sleep tracking capabilities of the Charge 5 are very advanced indeed, it will actually track your movement throughout the night. It does this by using its accelerometer and gyroscope sensors to measure your activity levels. This information is then used to determine if you were awake or asleep at any given point during the night.
Built in GPS
This is a great addition to the Charge family. The built in GPS allows you to go "phone free" and have the full benefits of what GPS has to offer. This allows you to have guided audio workouts and the ability to see your pace and heart rate zones.
Built in Speaker
Unlike some of the more expensive smartwatches, the Fitbit Charge 5 comes with a built in speaker that allows you a huge amount of flexibility to hear those awesome sounds and you can listen to music without having to pair it with another device.
Cons
No Built in Alexa or Google Assistance
This was the only real con that we could come up with. The more expensive smartwatches usually have this as a standard feature. If this feature is something that you want, I would suggest a smartwatch hybrid.
Verified Buyer Reviews
As you can see from the image below, there were over 7000 global reviews.
Out of those global reviews, 73% rated this device as a 5 star rating. In addition to that 13% of those rated the Fitbit Charge 5 as a 4 star rating. This means that 86% of over 7000 reviews rated this Fitness Device with a high rating.
These are great reviews and I will show you some examples of a couple of these reviews to give you an idea of what they like about this amazing fitness tracker.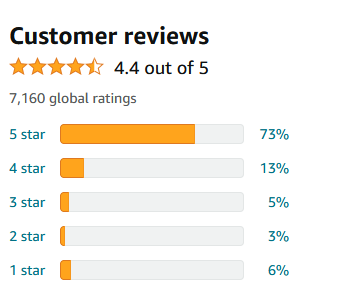 Final Verdict: What is the Best Fitbit For 2022?
So our final verdict is to answer the question, what is the best Fitbit for 2022? The answer, at this point is obvious. We, at Best Fitness Devices, believe the best Fitbit for 2022 is the Fitbit Charge 5 Advanced Fitness Tracker.
The Fitbit Charge 5 is one of the most popular smartwatches available today. It offers many great features including GPS tracking, heart rate monitoring, sleep tracking, and water resistance. This watch is perfect for those who want to track their activity, steps taken, calories burned, distance traveled, and speed. The Fitbit Charge 5 also comes with a built-in speaker so you can listen to music without having to pair it with another device.
Conclusion
So, what is the best Fitbit for 2022? The Fitbit Charge 5 Advanced fitness tracker is the perfect device for people looking to track their health and fitness goals. This devise has a sleek design, advanced features, and is easy to use. As stated before it our top rated Fitness Tracker.
This device tracks steps taken, calories burned, distance traveled, sleep patterns, heart rate, and many other metrics. It also gives users access to their daily activity graphs, sleep tracking information, and much more.
It's important to note that this device isn't designed to replace traditional exercise equipment. Instead, it's meant to complement your workout routine by providing additional data and insights.
Feel free to leave a comment below and let us know if you have experienced the Fitbit Charge 5 or would like us to review a particular fitness device.