We all know heart rate monitors are a great tool when working out, but did you know they can also help you lose weight and increase your motivation? In this Polar Verity Sense Optical Heart Rate Sensor Review, we will explore this and many of the other features and benefits of this great optical heart rate sensor.
Are you tired of tracking your heart rate manually with a chest strap or smartphone? Or maybe you just don't feel comfortable wearing a chest strap while working out. Well, now there's a solution!
The polar verity sense optical heart rate sensor is a small, easy to wear device that measures your heart rate while your running, walking, swimming, cycling, etc., without needing to carry around any additional equipment.
Polar Verity Sense Optical Heart Rate Sensor Specs
| | |
| --- | --- |
| Diameter: | 30.0 mm |
| Weight: | Sensor 5 g, holder 3 g, armband + holder 12 g, swimming goggle strap clip 2 g, charger 4 g |
| Memory: | 16 MB, 600 hours of training time |
| Sensor technologies: | Optical heart rate, accelerometer, gyroscope, magnetometer. |
| Our rating: | 9.5/10 |
Overview of the Polar Verity Sense Optical Heart Rate Sensor Review
The polar verity sense optical HR sensor is a small, lightweight device that measures your heart rate while you're exercising. It's designed to work with the Polar Flow app and compatible devices.
Thanks to Bluetooth® connectivity, ANT+, and internal memory, you'll be able to connect the Polar Verity Sense directly to a sports watch or the app to see your workout live or record your workout in internal memory and view your results later.
It's waterproof up to 50 meters (164 feet) so you can swim, dive, or kayak with it. It comes with a USB cable so you can connect it to your computer and transfer data from the sensor to your phone.
You can choose between 3 different modes: Running, Cycling, Swimming.
Running mode records your heart rate every second. Cycling mode records your heart rate at 1 minute intervals. Swimming mode records your heart rate continuously.
Polar Verity Sense Optical Heart Rate Sensor Features
Although the Polar Verity Sense has many features, we will highlight a few of the more important ones so that you get a big picture of what this fitness device can do.
Swimming Mode
The Polar Verity Sense lets you track your heart rate, pace and distance even in the pool. It fits comfortably against the side of the head in the innovative swimming goggles strap clip that's designed specifically for most goggles. This allows you to track all of your important data while in the pool. This is an amazing feature for sure.
Multiple connectivity options
With the Polar Verity Sense heart rate sensor, you can broadcast your live heart rate from your smartphone to many fitness apps, to any Bluetooth-compatible sports watches, to ANT+ compatible cycling computer, and to any Bluetooth and ANT+-compatible gym equipment.
The other option is to use the device as a stand along fitness devices. This is true versatility. In other words you can use it completely by itself or combine it with other fitness devices. This allows you to follow your heart rate in real time.
The Recording Mode
This allows you to save your workouts in internal memory so you can view them later using the Polar Flow app. You'll be able to see your heart rate, workout time, heart rate zone visualization (HRZV), Training Benefit, and burned Calories.
About the Polar Brand
Polar, the company is a leader in the development of high-performance, low-cost and environmentally friendly products for use in the electronics industry. Polar has been leading the way in technological innovations and heart rate monitors since 1977.
Polar employs 1200 people worldwide. It manufactures all products in its own fully owned factories. It has 26 subsidiaries globally and supplies over 35,000 retail stores in more than 80 countries around the world. That's what we would call the power behind Polar!
Polar offers an extensive range of products for every level of fitness, along with essential support services and advice. From improving athletes' athletic performances to helping people enjoy a healthy lifestyle, and aiding rehabilitation, weight loss, and recovery, everything from fitness to health.
Pros and Cons
As with any fitness device, there are pros and cons associated with them. In the case of this Polar Verity Sense Optical Heart Rate Sensor review, there are more pros than cons. As far as a heart rate monitor goes, this is one of the best. It is not a smartwatch, but an awesome stand alone heart rate monitor.
Pros
Very Comfortable and Lightweight
The Polar Verity Sense gives you maximum freedom of movement with its comfortable and lightweight aspect. In fact, the arm band is designed for top wearability as it is made of a very soft textile material and is machine-washable for everyday use.
Also, the sensor holder is detachable.The device straps to your lower or upper arm, so its very comfortable. Not only that, but you can detach it from the armband and holder and place it anywhere.
Great For the Swimmer
As mentioned before, the Polar Verity Sense has a swimming mode that allows you to track all of your metrics while you swim. It is water resistant up to 50 meters and is the perfect companion for the swimmer. The fact that you can attach it to most goggles, makes it super convenient.
Optical Heart Rate Tracking
This device has, one is known as Optical Heart Rate Tracking. Which allows the user to track their heart rate with Polar's high-quality 6-LED optical heart rate solution. So, what does this really mean? It means heart rate tracking now becomes super accurate.
Built-in Memory
This is a really cool feature and benefit. The built-in memory function allows you to store up to 600 hours of training data. Then you can sync this data to Polar Flow for analysis. An awesome way to measure your improvement and performance.
Cons
The Polar Verity Sense is not a Smartwatch
Some folks want to the convenience of having one device that measures their heart rate and includes all of the features and benefits that come with a smartwatch. I don't think this is really much of a setback since the Polar Verity Sense straps on your arm and not your wrist. Plus, the accuracy is much better than a typical heart rate monitor function on a smartwatch.
Verified Buyer Reviews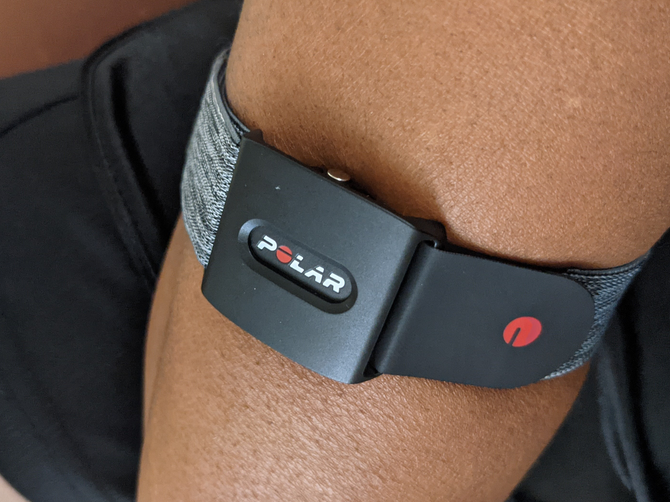 As you can see from the image below, there were 772 global reviews.
Out of those global reviews, 75% rated this device with a 5 star rating. Also, 10% of those rated the Polar Verity Sense Optical Heart Rate Sensor with a 4 star rating. This means that 85% of over 700 reviews rated this Fitness Device with an above average rating.
These are great reviews and I will show you some examples of a few of these reviews to give you an idea of what they like about this amazing heart rate monitor.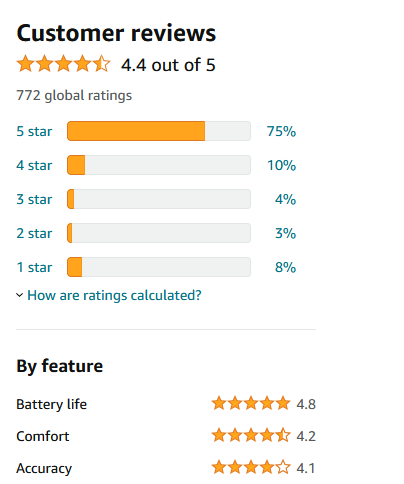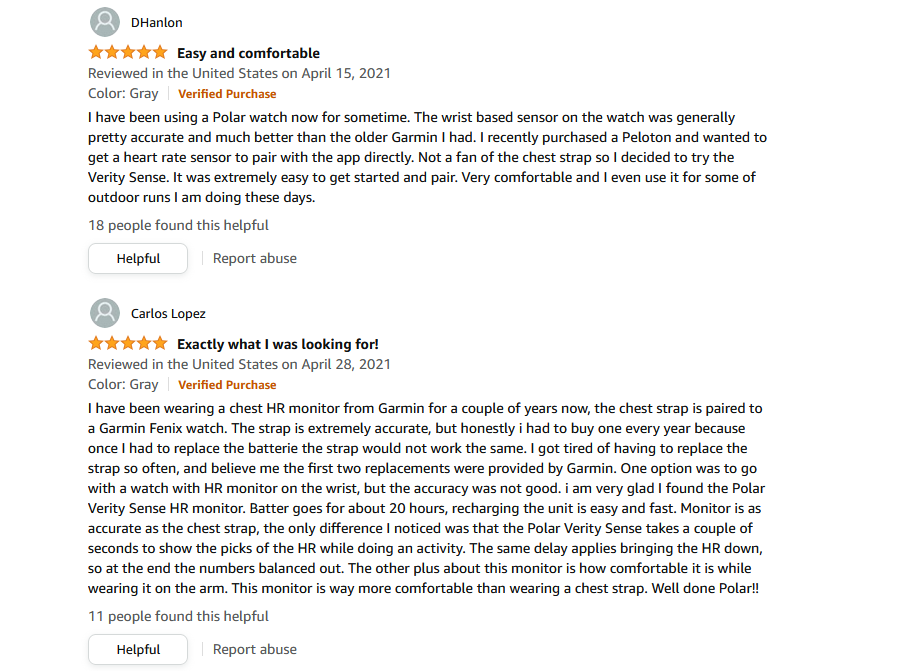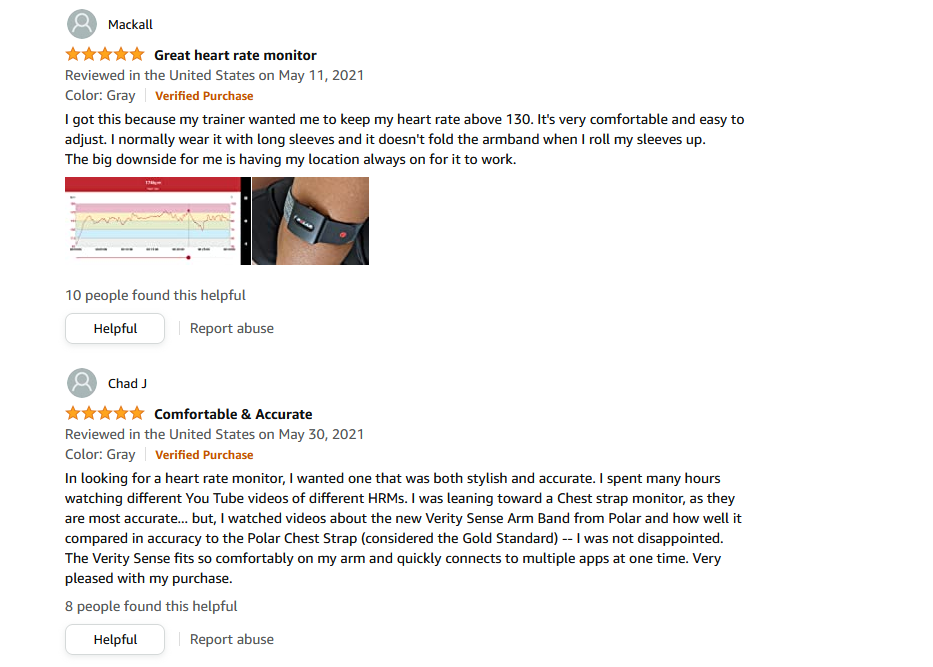 Frequently Asked Questions (FAQ's)
During our research we, at Best Fitness Devices, came across a number of frequently asked questions and felt that listing them would give value and help you decide if this is the right heart rate monitor for you. Should you have any questions, feel free to leave a comment below and we will get right back to you.
How Does the Polar Verity Track Swimming Distance, Does it Use GPS?
The Polar Verity Sense actually records distance, your heart rate and pace automatically within the pool swimming mode.
These calculations are based on the set pool length and detected turns. You have the capability to set the default pool length for pace and distance from the settings within the Polar Flow app. The sensor detects turns with an integrated gyroscope.
What is The Size of the Armband?
The armband is completely adjustable and can fit arm sizes 23-32 centimeters.
What is the Difference Between Polar Beat and the Polar Flow Apps?
Both of the Polar Flow and Polar Beat can record sessions. The difference is that the Polar Beat app is for those who just own the Polar Verity Sensor whereas Polar Flow app is compatible with both Polar Sensors and Polar watches. This allows smartwatch owners to sync their smartwatch using Polar Flow to view their data like Activity, Sleep, heart rate and other important metrics.
Is Polar Verity More Accurate than a Wrist Heart Rate Monitor?
Yes, when the armband is used on the Polar Verity, it is more accurate than even the Best Wrist Heart Rate Monitors. Typically, accuracy goes from the most accurate being the chest strap models, then the armband models, to the wrist warn models. This is a general truism.
Final Verdict
So, what is our final verdict concerning this Polar Verity Sense Optical Heart Rate Sensor Review? Based on the features and benefits list above, the Pros and Cons, as well as the verified customer reviews, we rate this heart rate monitor a 9.5 out of 10.0.
The only reason we didn't go with 10 out of 10, is because some people prefer to have the convenience of a heart rate monitor on the wrist. However, as we mentioned before, heart rate monitors that are designed to be used on the arm are more accurate than a wrist based model. We believe this is the best way to find out your target heart rates during exercise.
Final Thoughts About the Polar Verity Sense Optical Heart Rate Sensor Review

Polar has been around since the late 90s and has become one of the leading brands in sports technology. They offer a wide range of fitness trackers and other devices that monitor various aspects of our health.
The Polar Verity Sense Optical Heart Rate Sensor is one of their newest offerings and was released just last year. It features a number of innovative technologies including a new optical heart rate sensor that measures your pulse without having to wear a chest strap. It also includes a built-in GPS tracker that allows you to see where you've been and how fast you've been moving during your workouts.
In this Polar Verity Sense Optical Heart Rate Sensor Review, we mentioned that it is compatible with both iOS and Android smartphones and tablets. It works with both Apple Watch and Samsung Gear S smartwatches as well as many other devices. Making it a very versatile fitness device that helps you reach your health and fitness goals.
You can sync your data with the Polar Flow app as well as the Polar Beat app letting you view your stats on a map. This makes it easy to see exactly where you've spent your time during your workout. The Verity also comes with a USB charger and a wristband that attaches magnetically to the back of the device.
There are no wires attached to the Verity. Instead, it uses Bluetooth connectivity to connect to your smartphone and is designed with a sleek black finish and weighs only 0.3 ounces. It is small enough to fit into your pocket or purse.
The Verity doesn't have a display screen. Instead, it relies on the LED lights embedded within the band to show you your heart rate. If you want to know how many calories you've burned during your workout, you'll need to use another device such as a calorie counter.
The Verity does come with a few preloaded apps. These include a timer, activity tracker, sleep tracker, and a food diary. The Verity also has a built-in speaker so you can listen to music while exercising. You can choose between three different modes: active, rest, and idle.
The Verity's battery lasts up to seven days when used once per day. However, if you use it twice per day, then you will get about five hours of continuous usage.
If you're looking for a simple heart rate monitor, then the Verity is perfect for you.