Kids can certainly benefit from having a fitness tracker for the same reasons adults can. One of the main reasons, of course, is for motivation. For kids, however, it is much easier to motivate them when it's fun for them. There are quite a few fitness trackers these days that are designed for kids, however, you may be asking yourself, what is the best fitness tracker for kids?
In this post we have put together our top 3 fitness trackers for kids based on a variety of factors that include, but not limited to things like size, connectivity, what is measured, and motivational rewards. A fitness tracker for kids should help kids experience develop healthier habits, while at the same time, make it fun and rewarding. They should be able to track steps, record, active fitness and track their sleep.
These metrics should then be converted to reward, or even badges because kids respond to this type of encouragement. Even some friendly competition is always something kids enjoy.
Best Fitness Trackers For Kids (Updated List)
| # | Preview | Product | Rating |
| --- | --- | --- | --- |
| 1 | | Fitbit Ace 3 Activity Tracker for Kids | Best Overall |
| 2 | | Garmin Vivofit jr. 3, Fitness Tracker for Kids | Runner Up |
| 3 | | Verizon GizmoWatch 2 | Best with GPS |
What is the Best Fitness Tracker For Kids?
Why You Should Get a Fitness Tracker For Your Kids
There are plenty of reasons why parents should consider buying a fitness tracker for their children. Adults tend to use fitness trackers to help them reach their health and fitness goals, including things like maintaining a healthy heart rate during exercise.
Fitness trackers offer kids similar advantage as well, however, some of their needs are different form adults. Here are five reasons why you should consider a fitness tracker for your kid:
1. Motivation
Motivating kids is tough. They don't always understand why they're supposed to do something, let alone how to actually do it. Having a fitness tracker helps kids stay motivated because they see themselves improving over time. It gives them an incentive to keep going and stick with it. Especially when it is made fun and they get rewarded for their positive actions.
2. Health Monitoring
A fitness tracker can help your child monitor his or her physical activity level. This way, he or she will know if s/he is getting enough exercise on a daily basis. If not, then it's easy to make adjustments to ensure that your child gets at least 30 minutes of physical activity every day. We see too many kids in front of video games where they utilize no physical activity.
3. Tracking Progress
When it comes to fitness trackers, some are better than others. Some only give basic stats like steps taken, calories burned, distance traveled, etc., while others provide more detailed information like sleep quality, heart rate variability, stress level, and even blood pressure. A good fitness tracker will have enough of this information readily available so that you can easily check up on your kid's overall wellness.
4. Fun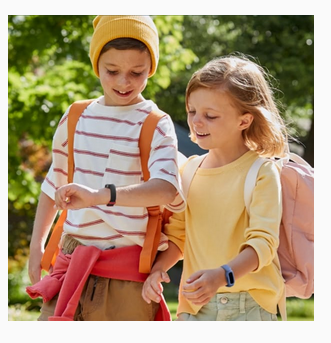 There are many ways to get kids excited about fitness trackers. You could show them how their stats compare to other people their age, or you could simply tell them that you bought one for yourself and now you want one for them. The choice is yours! Plus, if they have their own phone, they can have fun connecting it and utilizing the tracker with their phone.
5. Safety
Fitness trackers are generally very safe. Most fitness trackers use Bluetooth technology to connect to smartphones. So, as long as you set it up properly, there's no need to worry about any safety issues.
If you're looking for a new fitness tracker for your kids, we've got three recommendations that we think fit the bill. We'll cover each of our top picks below along with some pros and cons for each one. Plus we will reveal the answer to the original question, what is the best fitness tracker for kids?
What to Look for When Buying Fitness Trackers For Kids
Everyone has different preferences on what is important or not when deciding on a fitness tracker for kids, but I want to offer my opinion on the most important things that the child's fitness tracker should have.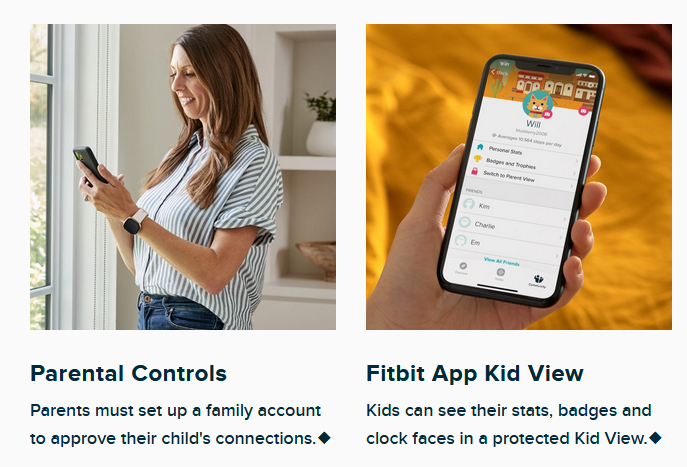 Major Motivation With Rewards and Challenges
A good fitness tracker for kids will include applications that promote the building of health habits with rewards and challenges associated with them. For example, some of these devices include virtual badges and animated clock faces. These aspects to give kids the incentive they need to be active.
These devices should have all day activity tracking so that they can see if they reached their fitness and activity goals or challenges that they whole family can be involved in. This will further contribute to the child's motivation and help them stay engaged in their own health and fitness goals.
Application With Built in Fun
Another aspect of a good fitness tracker for kids is a special kid view on a fitness app that is includes with the fitness tracker. For example, Fitbit offers a special kids view and a parent view. This way the child can have access to fun filled activities to help them stay motivated and keep up with the challenge.
The application should relate to the child's sense of humor as well as provide the necessary health metrics and stats that will help them achieve the goals of the child as well as the goals of the parent for the child.
Health Monitoring and Sleep Tracking
A good kids fitness tracker should also include health monitoring along with sleep tracking. This way the parent can have the assurance that the child is getting the right balance of activity and rest. A restful sleep at night gives the kid the right amount of energy to stay active during the day.
Sleep features should include things like sleep tracking, bedtime reminders, and silent alarms. Health monitoring should include active minutes that show every move. Skips and jumps and the whole works. They should also show all-day steps as well. Each of these activities adds up to a more active lifestyle.
What is the Best Fitness Tracker for Kids? Product Reviews
Here are the reviews of the top three best fitness trackers for kids.
1. Fitbit Ace 3 Activity Tracker for Kids (Best Overall)
The Fitbit Ace 3 Activity Tracker for Kids is the answer to what is the best fitness tracker for kids. We rated this tracker as best overall. Fitbit has been the leader in fitness tracker for kids. They really introduced this idea and incorporated it into their Fitbit App with the advent of the adult view and the child view.
If you want to track your kid's activity, but don't want to spend money on a dedicated device, then the Fitbit Ace 3 Activity Trackers for Kids is a great option. It tracks steps, distance, calories burned, active minutes, and sleep quality. It also allows parents to set goals for their kids and receive alerts if they fall short of those goals.
The Fitbit Ace 3 Activity Tracker for Kids also has an easy-to-read display with large numbers so it's easy to see how many steps your child has taken or how far he or she has traveled. It also comes in different colors which makes it more attractive than other fitness trackers. This device also has a battery life that lasts up to 8 days. You can read our full Fitbit Ace 3 Review here.
Pros
It tracks your kids activity
It can be used to track sleep patterns
It can help you monitor your child's diet
The Fitbit App has a parent and Child view that are independent
Cons
No GPS
No Heart rate monitor
2. Garmin Vivofit Jr. 3, Fitness Tracker for Kids (Runner Up)
Garmin Vivofit Jr. 3, Fitness Tracker for Kids is a great way to keep track of your fitness goals with kids.You can use it as an activity tracker, sleep monitor, and more. It's easy to use and has a lot of features. This watch is perfect for children who like sports, exercise, and running. With its built-in pedometer, you'll get to know how many steps your kids take each day.
It will also tell you how long your kids have been sleeping. With this watch, you can easily check out your kids' heart rate and blood pressure. It even tells you about your kids' daily activities such as swimming, biking, playing basketball, etc.
This watch is very comfortable because it has soft silicone band and case. It also has a water resistant feature that lets you wear it while taking shower or swimming. It's compatible with iOS and Android devices. It's also easy to charge.
It was almost a tie between this device and the Fitbit Ace 3. They are both considered to be the top of the line when it comes to Kids fitness trackers. You can get more details about the Fitbit Ace 3 vs Garmin Vivofit Jr 3 here.
Pros
This device tracks Chores and rewards with coins
Swim friendly up to 50 meter
Large easy to read display
Cons
No GPS
No Heart Rate Monitor
3. Verizon GizmoWatch 2 (Best GPS Model)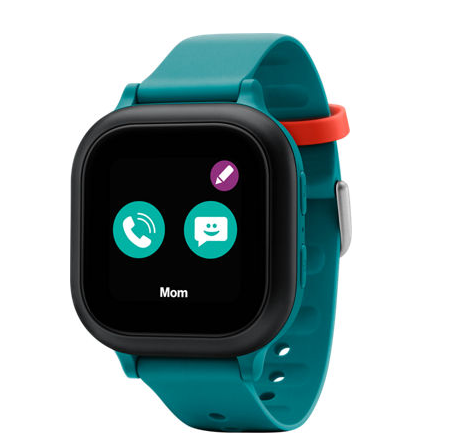 The Verizon GizmoWatch 2 is actually more of a kid-friendly smartwatch. It is designed with the kids safety in mind. The many features this device has will definitely appeal to parents. Features like a built in GPS locator and very easy to use parental controls. It also has built in reminders to help both the child and parent stay focused on their respective fitness goals.
This particular smartwatch encourages independence while, at the same time, help to provide parents a lot of peace of mind. It also comes with interactive features like tracking steps to encourage healthy habits and built in to-do lists set up with rewards.
As mentioned before, this is really more of a smartwatch with fitness tracker features, making it more of a hybrid fitness device. The child can have up to 10 trusted contacts that they can send voice notes to, text, or call. This device is water resistant, durable and simple to use.
Pros
Built in GPS Locator
Water Resistant
Easy to use parental controls
Cons
Lacks fun content for kids to use
To get LTE connectivity you have to pay extra
FAQ's
Here are some commonly asked questions about Fitness trackers for kids.
Can You Change bands On These Devices?
Yes, many kids are either too old for the themed versions of some of these fitness trackers. Certain characters like Mickey Mouse or Star Wars characters do not always appeal to them. In these cases, all of these models have different bands you can choose from. This really helps as the child gets older and less attracted to these types of characters.
Does the Garmin always display the Disney Princess or can you change it?
Yes, you can always choose what the screen displays. There is really cool app that makes this easy to do. Plus, in the steps icon you can choose between "Disney princess" or a shell picture.
Are these fitness trackers waterproof or just water resistant?
These devices are designed to be sealed. In other words, they can be used in the pool, tub or shower without any damage caused to them. It that case they are indeed "swim proof".
Final Thoughts on What is the Best Fitness Tracker for Kids?
So that concludes our list of 3 of the best trackers for kids and, of course, we answered the main question, what is the best fitness tracker for kids? Of course, the answer is the Fitbit Ace 3 Activity Tracker for Kids. This is the one that we consider to be the best overall. Yes, it does not have GPS, but it does have all of the necessary features that you would want in a fitness tracker for kids. It incorporates fun into the kids activity needs and helps parents to motivate their children to stay active and healthy.
What is the best Fitness tracker for kids? The Fitbit Ace 3
The Fitbit Ace 3 not only monitors your child's health, but their sleep as well. As as good night sleep is an important aspect to their activity levels during the day. This device also plays an important role in motivation by including applications that promote the building of healthy habits with rewards and challenges associated with them. Plus, the parent and child view on the Fitbit app is an excellent way keeping both the parent and child involved in maintaining healthy fitness habits for both the parent and the child.
We believe these attributes are all important in the overall reason for children to have fitness trackers available to them. If you have any experience with any of these fitness trackers or you would like us to review a particular fitness tracker, feel free to leave a comment below.