If you are looking for a standard looking watch that has all the fitness tracking capabilities then you will want to read this Garmin Vivomove HR Review. The Garmin Vivomove HR combines a normal analog-type watch face with real moving hands and adds an LED touchscreen to boot.
Because this site is a women's health and fitness site as its main theme, I would like to focus this review on the Garmin Vivomove HR, Hybrid Smartwatch for Men and Women, in the White/Rose Gold color. This certainly has more of an appeal, especially for a watch that already is large. For the active women who wants to monitor here heath and fitness all the time, we want to ensure that the watch looks and feels good as well.
As a nurse, I really like this feature because of the efficiency and accuracy in providing patient data in real time. This allows a nurse to be more comprehensive with their patients while as the same time enjoying the smartwatch features for the data as well. As you can see from a recent post I made about the best fitness watch for women, this one made it on the top three pics.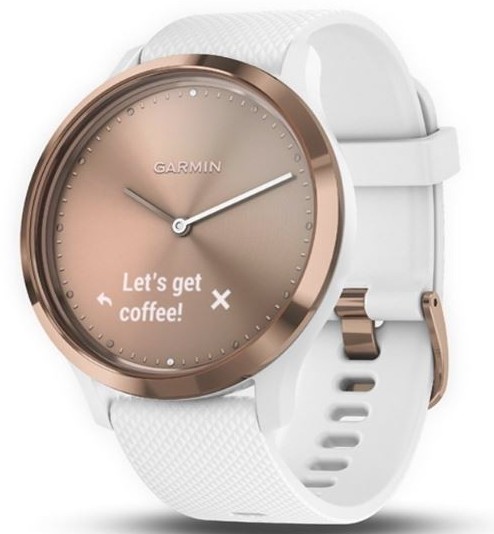 The Garmin Vivomove HR is a full-on fitness tracker with and blends the digital and physical putting every necessary fitness tracking readout into a normal looking watch. When you lift your arm a glowing readout toward the bottom displays the date and step count. You can then swipe the see things like stairs climbed, heart rate and calories burned.
About The Vivomove HR
---
Besides the analog type watch face with real moving hands, this amazing smartwatch is fashionable enough to meet the aesthetic criteria for us here at Fit watches for women. It is considered a stylish hybrid smartwatch because it features a crystal touchscreen with a discreet display. The precision hands show the time and dynamically move away when you swipe through your messages, heart rate and more. It does count your steps and calories while monitoring wellness, including all-day stress tracking.
It tracks statistics for things like stairs climbed, heart rate, steps, stress levels, calorie estimates, sleep and estimated VO2 Max. It does not have connected or on board GPS so it is not really intended for the serious runner. It is really more of an everyday watch that provides its users with smart notification and acts mainly as a daily fitness tracker. So the tracking distance are considered estimates.
The Vivomove HR is also water-resistant up to a total of 50 meters, which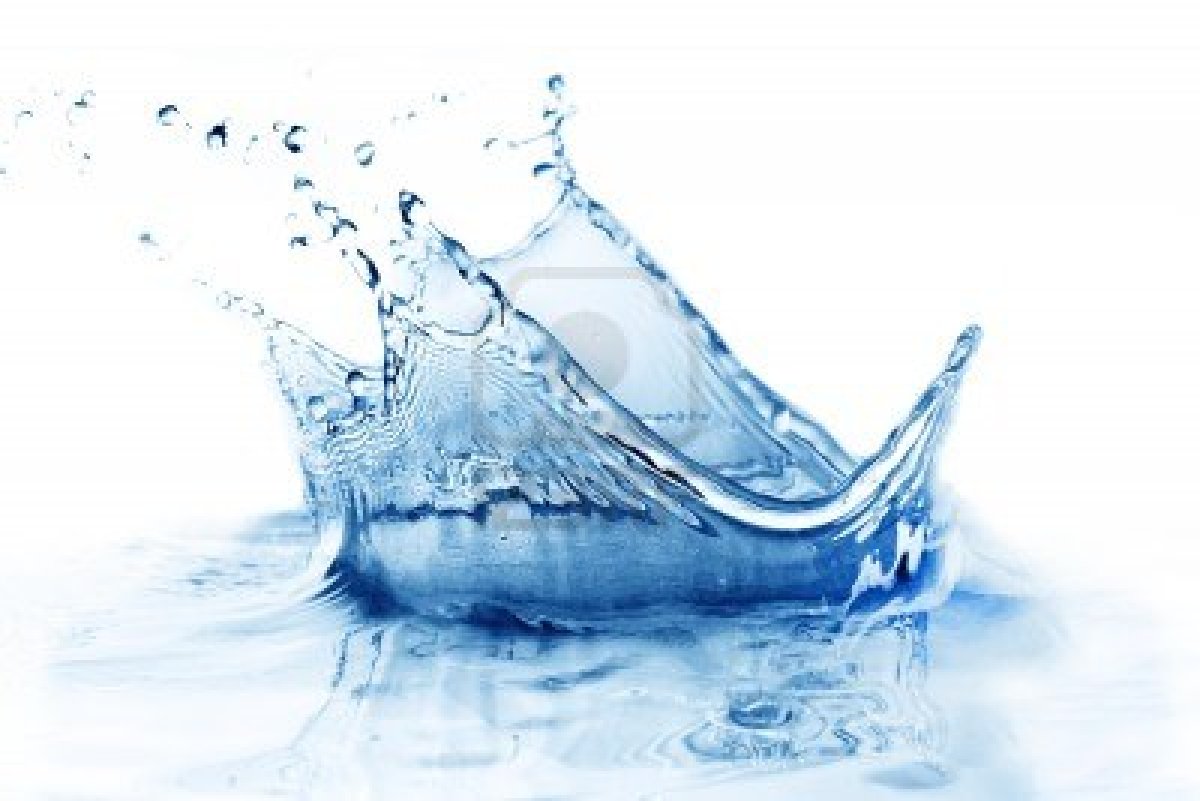 means it's totally swim ready and can be worn in the shower. It has a clip on dongle that recharges the watch battery pretty easily and on a full charge I got almost a full week. About six and a half days. I couple of day more than my Fitbit Charge 2. The interesting thing is though is that when the battery is finished, the analog watch part still works for another week or so. It just won't record any more fitness data during that time period.
Who Is The Vivomove HR For?
---
The Vivomove HR is really for those of us who are mainly interested in tracking fitness and are a huge fan of the analog display that is so unique to Garmin. It is not for the serious runner who may need either an on board GPS feature or connected GPS for more accuracy. Garmin is a great company and they do have a great support community and their garmin connect mobile service.
This fitness tracker is really for those who want to mainly track their fitness without all the bells and whistles that many other smartwatches offer, such as either connected or on board GPS. The hybrid nature of this fitness watch is really in the analog display and not in the hybrid aspect of a fitness tracker verses a smartwatch. This can be a bit misleading when you hear the term hybrid. This is a great watch if you don't want your watch to look like it's a fitness tracker. That seems to be the biggest advantage of this device.
Don't get me wrong, there are a boat load of good features and notifications, but for the cost of concealing these from the display, it makes it a bit hard to read your notifications quickly and easily. You have to swipe the face in order to get your information and the screen is a bit small. It's almost easier to just look at your phone.
I do have to say though, I do love the style of this watch and it is very comfortable to wear. Plus the analog style is quite attractive I believe.
Garmin Vivomove HR Review Features
---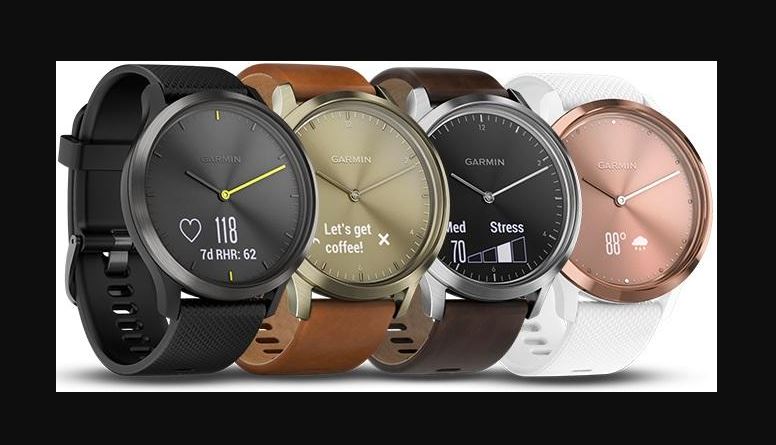 As you may know by now, the claim to fame for the Garmin Vivomove HR is that it has full fitness features on a regular-looking analog watch. That is its appeal. The Vivomove HR includes heart rate, step count and sleep tracking, and smart functions like notifications. It works on android and iOS and is water resistant up to 50 meters and a weeklong-plus battery life. Along with the great looking analog display the Garmin Vivomove HR also features the following:
24/7 heart rate monitoring with Elevate wrist heart rate technology
Wellness monitoring tools, such as all day stress tracking and a relaxation timer, which helps you manage stress
Includes fitness monitoring tools such as VO2 Max and fitness age
Displays steps, calories, distance, heart rate and intensity minutes
Stay connected with smart features such as auto uploads, smart notifications, music controls and more.
Battery life up to 5 days
water resistance up to 50 meters
The Garmin Vivomove HR is called a hybrid smartwatch and claims that you get the best of both worlds because you get the physical, ticking watch hands along with a touchscreen and display. The smart display really only appears when you turn your wrist up quickly to look at your watch. The hands then dynamically move out-of-the-way once you interact with the touchscreen. It then moves back to the time when you are finished.
This is one feature I would really appreciate because the opposite is true with my Fitbit Charge 2. It is a bit frustrating when I look at my watch to see what time it is and instead it tells me something different, like the number of steps I have done so far. But, then again, my Fitbit Charge 2 is a fitness tracker and not really a smartwatch.
Is This The Best Fitness Watch for women?
---
Before addressing this question I would like to take a look at the Pros and Cons of this particular smartwatch. There were 250 customer reviews on Amazon at the time I wrote this article. This indicated 3.9 stars out of 5. Fifty percent of the reviewers rated this smartwatch as a 5 star rating. So, owners of this watch are generally satisfied with it. I did not see a lot of negative comments.
Pros and Cons
---
Pros
Attractive design and lightweight
Analog display with real clock hands
VO2 Max
Good battery life
Wrist heart rate monitor
Hidden display that shows steps, smartphone notification, etc.
Activity, stress, sleep, workout tracking features
Cons
No on board or built in GPS
Display is small
In general smartwatch features are limited compared to other smartwatches
So, to answer the main question, is it the best fitness watch for women, I would have to say no. It does rate on our top 3 list however as far as fitness watches go. As far as a smartwatch, I do not think it would make our list (coming soon).
Conclusion
---
Overall the Garmin Vivomove HR is a great fitness watch and does make our top 3 best fitness watch for women list for 2019. The unique analog display that features real moving watch hands makes this fitness watch unique, especially for the fitness minded women who wants to wear a fitness watch all the time.
We highly recommend the Garmin Vivomove HR if you are interested in a full featured fitness tracker that you want to use on a daily basis to track all of your fitness needs. We do not recommend this watch if you area a serious runner and need GPS and some other smartwatch features. As a smartwatch goes, we do believe there are better choices available, especially in the same price range. You may want to consider reading our full review of the Fitbit Versa Smart Watch.
But, overall the Garmin Vivomove HR looks great and does have a lot of great health and fitness features for the women who is mainly looking for a good fitness tracker and loves the idea of having an actual watch looking device on their wrist as apposed to looking like they are wearing a fitness tracker. This is especially important for the women who wants to wear their watch out to dinner or some other event.