With all of the fitness trackers and fit watches to choose from, not all combine the best in technology with the style that fitness loving women need and want. Yes, we want the best in technology, but we want it to look great and not weigh a ton on our wrist, yes we want it all. The Fitbit Charge 2 Review you are about to read addresses the needs of the everyday fitness conscious women.
About The Fitbit Charge 2
---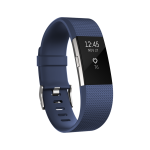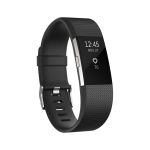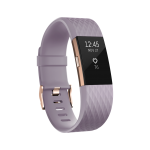 The Fitbit Charge 2 fitness watch is a Heart Rate monitor plus a Fitness Wristband. It puts your daily exercise motivation on your wrist and adds smartphone notifications you need most and includes a sleek design with an interactive OLED display.
It tracks heart rate continuously to maximize workouts, tracks calorie burn and provides a clear picture of your health.
The Fitbit Charge 2 essentially replaced the Alta and Blaze which were dropped earlier in 2016.
With the Charge 2, there's a host of new features including guided breathing, interchangeable bands, a larger screen and new data tracking with VO2 Max.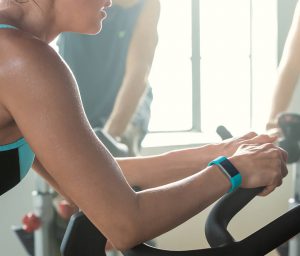 It is a is a very affordable (0) tracker that captures your activity 24 hours a day, 7 days a week, while measuring your heart rate and monitoring your sleep. Another awesome thing about this fit watch is it has connected GPS.
The Charge 2 connects with your phone to push call, text and email alerts to your watch. The workout function allows runs to be measured, cycling sessions, or any other activity while delivering immediate heart-rate feedback with this mode on. Connect the device to the GPS on your phone, and you'll also see your distance and pace right on the screen. In fact, the Fitbit Charge 2 has been classified as one of the best Fitbit for women a while back.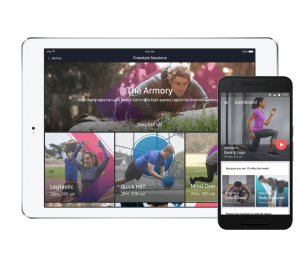 Check this out, a "relax" function takes you through breathing exercises, tailored specifically to your heartbeat.
Check out the video below for more feature details. You can also check out our article on the best fit watches for women here.
Who is The Fitbit Charge 2 for?
---
I really feel that fitness should not be a laborious en-devour, but should be an everyday activity, capturing what you enjoy doing into your fitness activities. So, rather than locking yourself into a workout room slaving away on the treadmill, perhaps it would be better to take a jog or walk in a beautiful park. Or, if you enjoy a particular sport, like handball or something that you enjoy, doing that instead. It provides a better mindset overall.
So, that being said, you can wear the Charge 2 around the clock, and you get a pretty accurate look at your general health when it comes to sweating it out as well as resting. It records your approximate calories burned, flights of steps climbed, hours slept, steps taken—and your resting heart rate, too. This is what we really love about the Fitbit Charge 2.
Now comes the best part, the comfort and style. This is a very stylish fit watch. When I put this on for the first time, I was amazed, not only about how it looked on my wrist, but how comfortable it was. you can interchange the bands with either one of fours choices. The video above shows what these look like. It really does not look like a fit-watch, unless you really look at it closely. This makes it a perfect fit for a women.
Another surprise feature was the "relax" tool. At any moment, if I was feeling a little frazzled or in a panic, the quick 3-minute breathing exercise helped bring me back to a calm and relaxed state of mind, staying energized with a clear state of mind.
Should You Buy The Fitbit Charge 2?
---
Before answering this question, let's take a look at the Pros and Cons and decide.
Pros
All day activity tracking
Auto Sleep Tracking & Silent Alarms
Stylish Interchangeable Bands
Large easy to read OLED Screen
The overall design is very pleasing
Long Battery Life
Wireless Syncing
The big one– Connected GPS
Cons
The heart rate monitor on the back protrudes a bit, but after using the Charge 2 for quite a while we haven't noticed it as much as we thought.
The Charge 2 is water resistant, but not waterproof, meaning it's fine dealing with sweat and rain, but Fitbit doesn't recommend taking it in the shower, which is a little annoying. Given how much the Charge 2 does, we feel like we should be able to take it into the pool too.

Summary
---
The Fitbit Charge 2 Review was mainly concerned about whether it was the best Women's choice. Women, just like men, want all of the fitness benefets of a portable fitness tracker. As we all know, tracking the heart rate and utilizing all of the features that this product has to offer is very important. One of the features of this device which stands out is the connected GPS. It is simply an awesome feature to have, in addition to the auto sleep tracking and silent alarms.
The stylish design along with the confort take it to the next level for a women, which is looks and comfort.
If you are not concerned with the fact that this device cannot be drenched in water and you cannot swim with it on your wrist, then you should buy the Fitbit Charge 2. We highly recommend it and it is certainly worth the price tag accociated with it.
Please leave a comment below and tell us your thoughts. Especially if you own one, we would love to hear about your experience with this product..